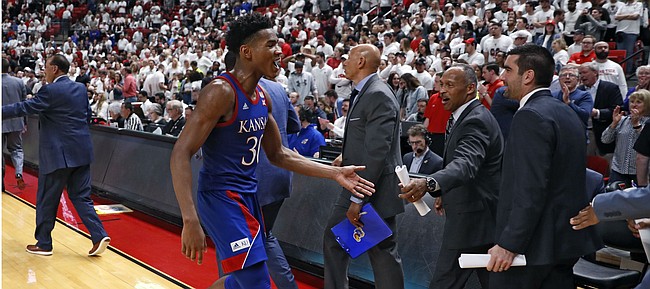 With the 2020-21 Kansas basketball team now into its fourth week of on-campus training this offseason, KU coach Bill Self has identified the team's increased camaraderie as one of the biggest advantages of the current climate.
"They seem to really be getting closer as a group because there's nobody else to hangout with outside of their own little bubble, so to speak," Self told the Journal-World on Tuesday morning. "So they're hanging out with each other."
After leaving Lawrence in mid-March for an unknown amount of time that turned out to be nearly five months, the 2020-21 Jayhawks reported to campus on Aug. 2 and began working out together and training with their coaches and on a limited basis.
Counting walk-ons Chris Teahan and Michael Jankovich, this year's group featured 11 returning players and four newcomers. Together, they began the process of building the identity and foundation of the 2020-21 team.
Despite the fact that so many current Jayhawks played a role on last year's top-ranked team and, therefore, had to endure the disappointing blow of seeing the season canceled before they could make a run at a national title, Self said the new group showed up on campus energized and ready to make another run.
"Their attitudes have been fantastic," he said. "They're excited about what's happening (and) the potential that this team has."
One of the biggest challenges of the first few weeks, according to Self, has been trying to determine just how hard to train. Normally, the players would have been working out together since June. But the pandemic pushed that timeline back a couple of months.
Self told the Journal-World in late-July that he was not interested in trying to make up for lost time, but he noted Tuesday that the uncertainty surrounding the upcoming season has created a different reality.
"Guys are working," Self said. "But we're so limited and it's a little bit confusing on how hard you want to go now because it's such a long season. And it could be longer, depending on what (the NCAA decides). But they're all doing well. I like them, and they seem to be in good spirits and are responding well to strange times."
While NCAA officials, including President Mark Emmert, have talked openly about working early on preparing a sound plan for the 2020-21 season and 2021 NCAA Tournament, Self said he has not had much of a role in that department to date.
A handful of people have asked for his opinion on how things might work or what could be possible, but Self said he had not been involved at a decision-making level in any way.
"But I'm not sure anybody has," he noted. "I don't know that anybody really knows what's going on. So much of it is I think we've got to be patient and see how it works out with football."