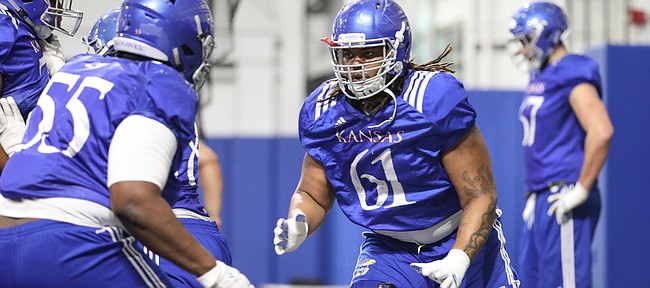 For a man who lost two key starters up front from last year's lineup, Kansas football coach Les Miles doesn't sound especially worried about the state of the Jayhawks' blocking.
Miles, while discussing the potential holes left by tackles Hakeem Adeniji and Clyde McCauley III, asked a rhetorical question that displayed his confidence.
"How about if you think you've improved so much that you may be better than the offensive line that just left?"
That would go down as a significant development for the KU offense, of course, if it were to play out that way, with the Jayhawks lacking a returning starting quarterback and likely relying heavily on star junior running back Pooka Williams.
The head coach's optimism emanates from the potential he has witnessed from the O-line during the preseason, at KU's closed practice sessions.
"This offensive line, you will see a pro-sized, big, capable offensive line group," Miles predicted.
Although he didn't identify a particular starting five up front, Miles named some players he expects to contribute. His rundown during a recent video conference with the media began with Miles bringing up the improvement of redshirt junior Earl Bostick Jr., listed at 6-foot-6 and 290 pounds. The coach shared he looks forward to seeing Bostick play.
Miles also pointed to Malik Clark, a 6-4, 315-pound senior who started at right guard for the Jayhawks in 2019.
Senior Api Mane (6-3, 327 pounds) projects as KU's starting center, and Miles said Mane is doing a great job of teaching his understudy, true freshman Garrett Jones.
KU's coach called senior Chris Hughes (6-4, 315 pounds) big and strong. Miles also said senior Antione Frazier (6-5, 300 pounds) will compete for the group. Then he changed the subject, revealing a younger O-lineman has caught his attention, too.
"Nick Williams is much more big than he was a year ago and we look forward to seeing him play," Miles said of Williams, a 6-8, 290-pound sophomore.
Hughes attested that KU's O-line has shown improvement during August practices, and he's very confident in the group's ability headed into this season. According to Hughes, sophomore Jacobi Lott (6-4, 320 pounds) and senior Adagio Lopeti (6-4, 310) have stepped up, too.
"Everybody's coming together," Hughes said, "jelling a lot better."
A team leader in 2020, Hughes played in every game a year ago and started eight. The senior from Harker Heights, Texas, agreed with Miles' assessment that KU's offensive line could be better this fall. Hughes called it a "great compliment from a great coach."
Hughes pointed to off-the-field chemistry as one factor in the unit's development. He said offensive linemen got together while taking safe COVID-19 related measures during their offseason. They worked as much as they could on their own, and Hughes thinks that has their overall communication functioning at a high level.
"With COVID and everything it really just made us realize that you're as strong as your weakest link and when everyone is strong your team is amazing," Hughes said.
Miles emphasized that KU's O-linemen must continue to improve during the buildup to the season. But he doubled down on his positive outlook for the blockers.
"In my opinion they're doing really a good job," Miles said, "and if you look at them you think we may be a better offensive line than we were a year ago. That is quite the compliment to this group."
KU football offensive linemen
Seniors:
Malik Clark (6-4, 315)
Chris Hughes (6-5, 315)
Api Mane (6-3, 327)
Antione Frazier (6-5, 300)
Adagio Lopeti (6-4, 310)
Juniors:
Earl Bostick Jr. (6-6, 290)
Joey Gilbertson (6-4, 290)
Sophomores:
Jacobi Lott (6-4, 320)
Nick Williams (6-8, 290)
Jack Murphy (6-9, 275)
Jalan Robinson (6-4, 300)
Freshmen:
Garrett Jones (6-2, 300)
Nicholas Martinez (6-5, 285)
Jackson Satterwhite (6-5, 285)
Bryce Cabeldue (6-4, 315)
Jack Werner (6-2, 280)
Danny Robinson (6-5, 290)
Joe Krause (6-3, 290)