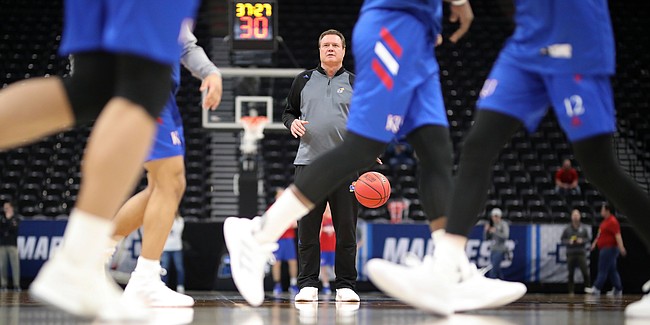 Kansas basketball coach Bill Self does not believe that the delays brought about by the COVID-19 pandemic have forced him into pushing his team more at the start of workouts this week.
Whenever the Jayhawks get back on the court after returning to Lawrence on Sunday for the first time since March, Self said things will be cool, calm and collected from the start.
"We're not going to try to make up for lost time at all," Self told the Journal-World this weekend. "By no means do I feel pressure to try to push them."
Instead, Self and his coaching staff plan to approach KU's return to preseason practice with a carefully detailed plan that will go way beyond what drills to do and when to do them.
Once the players are cleared to practice after an initial round of testing following their return, film sessions will be altered. The team will eat together as often as possible. And weight room workouts will be done in smaller groups, with a continued emphasis on social distancing practices to combat the pandemic.
"It'll be more organized and structured than any time we've ever had them here," Self said. "But it won't be pushing them any more than we normally would."
Despite missing out on nearly two full months of voluntary team activities, Self believes the 2020-21 Jayhawks will be in relatively good shape when things get going again.
Although they were not in Lawrence to work with second-year strength coach Ramsey Nijem, the Jayhawks were in regular contact with Nijem and the rest of the KU coaching staff throughout their extended stays at home. Several Jayhawks even posted workout videos of their individual sessions with trainers throughout the summer.
"We believe our guys have been working pretty hard individually," Self said. "Even though we may not be good as a team, we think, individually, we've made some improvements."
The fact that 11 of the 15 players on this season's roster have been through at least one full season of a Kansas basketball practice — six have been through at least two seasons — should help the 2020-21 team overcome the lost time together.
But each team is different from the last, and this team, which will feature four newcomers, will move forward looking for a way to replace the production from 2019-20 All-Americans Udoka Azubuike and Devon Dotson.
That won't happen overnight. And there are several options for how the Jayhawks can and will play when the season rolls around.
For now, the focus is purely on getting the rust off and getting back into the routine.
"Our biggest thing is to come back, get them in shape and start doing some things collectively so we can start getting used to playing together," Self said. "We're not going to win any games in July and August, even though we want to be as far along as we can. And we will be."