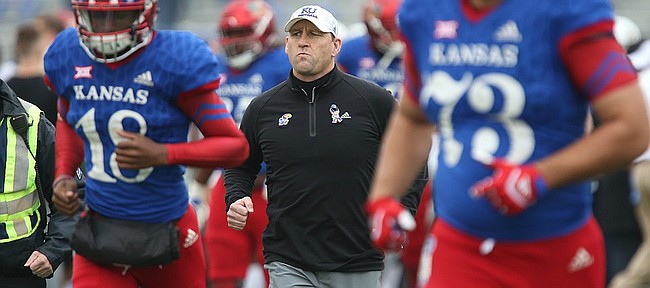 The Notice of Allegations the University of Kansas received from the NCAA on Monday finally revealed the alleged infractions committed by the KU football program when David Beaty was still the head coach.
The document outlines alleged misconduct by the football program, citing the use of a non-coaching staff member, then video coordinator Jeff Love, in a coaching role.
The NOA alleges Beaty didn't demonstrate that he monitored the KU football staff, because he knew Love, from Dec. 2017 through mid-Oct. 2018, spent time with the quarterbacks on the team, both in position meetings and during practices.
It also alleges Beaty observed Love "alone" with the quarterbacks during a film session.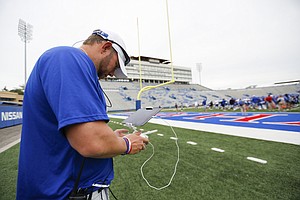 According to the allegations, Love's film room instructions occurred "six to 10 times" and "included, but were not listed to, identifying quarterback reads, coverage reads and adjustments and defensive fronts and alignments."
The NOA also alleges Love "occasionally" sent quarterbacks instructional video via text messages in August and September of 2018.
"Beaty failed to identify the red flags involving Love," the NOA states.
KU Athletic Director Jeff Long's statement Monday evening noted the athletic department appropriately self-reported the football violations.
Love was promoted to a full-time assistant by Beaty in Oct. of 2018 after Beaty fired then offensive coordinator Doug Meacham. Love was not retained at KU once Les Miles took over the program after the 2018 season and now works as an assistant high school coach in California.
Beaty, of course, remains in a legal battle with KU Athletics over his $3 million buyout, after Long fired him with three games remaining in the 2018 season.
When Beaty's suit was filed earlier this year, KU said it was withholding payment pending the NCAA's investigation into alleged violations.
A lawyer for Beaty, Michael Lyons, said in a statement Monday night that the former KU football coach received the NOA "earlier this week," as well as instructions from the NCAA that the contents of the NOA remain confidential.
"Speaking only generally, we were pleased to see that the two football allegations do not allege Coach Beaty had any direct participation or involvement in them," Lyons stated. "That critical absence is, of course, completely contrary to what the University of Kansas has previously represented to the court in its filings and in its public efforts to justify breaching its contract with Coach Beaty and attempting to walk back its previous statements that David Beaty was fired without cause back in November of 2018."
The NCAA's notice of allegations sent to KU noted Beaty had no prior Level I, II or major violations.
Lyons said Beaty's NCAA counsel will address the alleged football violations through the NCAA infractions process.
"I know that Coach Beaty is eager to challenge the leveling and reliability and sufficiency of evidence in purported support of the underlying allegation levied against one of his former staff members, as well as the allegation seeking to hold him, as the former head coach, presumptively responsible for that staff member's isolated misconduct," Lyons said. "I also understand he has already submitted considerable objective, documentary evidence to the enforcement staff that undercuts the allegations that I believe KU has marshaled to the NCAA."
Lyons also said it is the belief of Beaty's law team that KU's internal investigation of the football allegations was "engineered to attempt to avoid paying David under his contract as promised."