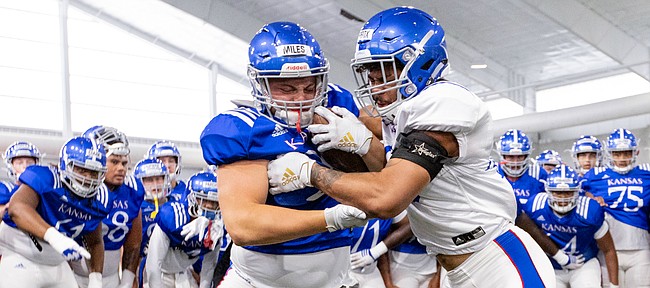 Before he became a high school football player, Ben Miles had a sneaking suspicion that he wasn't going to have the height or frame to play a glamorous position.
An offensive linemen on his little league teams in Baton Rouge, La., Miles thought he possessed enough athleticism to at least play in the backfield, though. So Miles leaned into a future as a fullback.
It worked, too. By the end of his prep career at Catholic High, Miles was considered one of the top fullbacks in the nation in the class of 2017.
And even though he took two college pitstops before joining the Kansas football program ahead of preseason camp, Miles now thinks he found the ideal spot and head coach.
"If you want to specialize in a piece of the run game, who better than Les Miles?" Ben Miles said. "Him being my dad, it's even better."
While spending time around his father's LSU football teams, Ben Miles began noticing that he favored some of the Tigers' fullbacks when it came to his football skill set. Connor Neighbors, a fullback who played for LSU from 2011-14, was someone he looked up to in particular.
"The writing was on the wall with what my options were to be," Ben Miles said. "I'm sure if I was 6-5 I would likely play tight end or play defensive end or say, 'Give me a jump ball.' You kind of see what you are."
Now 6-foot-1 and 242 pounds, Ben Miles, who signed with Nebraska out of high school, redshirted, and then transferred to Texas A & M to become a walk-on, started at fullback for his first game in a Kansas uniform.
Though the sophomore with the familiar last name didn't record any stats — few fullbacks do — he played on close to 30% of KU's offensive snaps while sharing the spot with senior fullback Hudson Hall.
Ben Miles said he had a good time in his KU debut, but he described the opportunity to play for his father and team with his older brother, Manny, a graduate transfer from North Carolina, as "really awesome."
"It's fun getting coached by your dad — sometimes. Sometimes it's hard," said Ben Miles, who, like Manny, is a walk-on for KU. "But (Les Miles) really has, I feel like, some extra detail with me, so I feel like that's a good thing. He definitely knows what he's talking about when he coaches fullbacks especially."
Those Les Miles tutorials, the head coach's son pointed out, come for Hall as well. Les Miles regularly observes offensive plays during practices from behind the action on the field.
When the Jayhawks are working on their running game, it's common for the fullback to be the first player who must make the correct read. So that position inherently leads to Les Miles stepping in to address how plays are functioning.
"We're that free hitter that can make the play work," Ben Miles said of playing fullback. "You're kind of the point of attack on a lot of plays."
After coaching KU to a 24-17 win over Indiana State, Les Miles explained why the offense used fullbacks and ran plays out of the I-formation at times.
Podcast episode
On this week's episode of the KU Sports Hour, our crew breaks down Bill Self's new strength coach hire and discusses KU football coach Les Miles looking to move the Jayhawks to 2-0. Follow the KU Sports Hour on: iTune/Apple Podcasts | Spotify | Google Play | ...
"We enjoy a smidgen of two-back," the coach said. "Certainly there's ways to attack a competitor, an opponent that way as well, differently. And I think that that's something that the staff and certainly myself looks forward to."
The head coach also provided his assessment of Ben Miles' play in that old school backfield formation.
"Number 29, 240 plus, tough kid. Plays hard and will continue to improve," Les Miles said.
KU's run game didn't give Indiana State a lot of trouble, though. The Jayhawks (1-0) ran for only 103 yards as a team, averaging 3 yards per carry — which ranked 97th in the nation in Week 1.
Three of Khalil Herbert's 17 rushes resulted in a loss of yards, and five others gained either 1 or no yards. On Dom Williams' nine carries, three lost yardage for the offense and one picked up just 1 yard.
Ahead of Pooka Williams' return to the lineup against Coastal Carolina on Saturday at David Booth Kansas Memorial Stadium (6 p.m., ESPN+), Ben Miles said the Jayhawks showed potential with their rushing attack but dealt with missed assignments, lining up in unfavorable positions and taking improper angles on other occasions.
"We definitely need to cut down on some errors that caused a lot of negative plays," the starting fullback said. "Once you get a negative play, now you're behind and you kind of tie the hands of the play-caller because you're not in great situations for the run game."
According to Ben Miles, the Jayhawks feel confident the offense can clean up the mistakes that plagued so many rushing calls in the opener.
Being "close to home," Ben Miles said, is another perk of transferring to play for his father's team. Home-cooked meals from Kathy, Ben and Manny's mother, have included some of Ben's favorites, such as pork chops, baked chicken and gumbo.
Those comfort foods, no doubt, help him refuel for the physicality that comes with playing the fullback position he decided to seek out years ago.
"It's not for the weak of heart and that's kind of a strength of mind, I feel," Ben Miles said. "A reason why I'm out here is I can do those physical things."