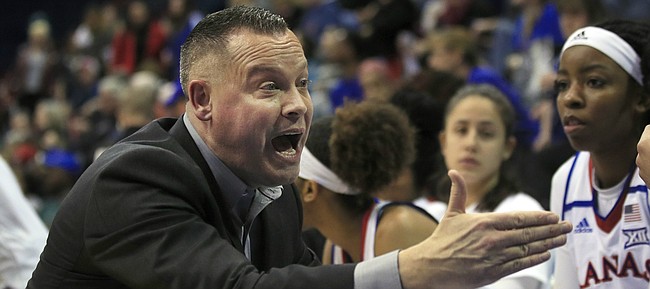 With turnover in college basketball becoming more prevalent with the addition of the transfer portal and players leaving due to graduation or turning professional, coaches constantly have to adjust.
"I think even if you lose one player it still looks different chemistry-wise," Texas women's basketball coach Karen Aston said. "I just think every year you have to be prepared to sort of go with the flow and restart your batteries every single year and try to build that team into what it could be that particular year."
Rebuilding or re-tooling was something on multiple coaches' minds at the Big 12 Women's Basketball tip-off at Municipal Auditorium in Kansas City, Mo. Tuesday. That's also something Kansas coach Brandon Schneider has had to address all offseason.
"I think as we get closer and closer to playing games you start getting a little more specific on the identification of roles," Schneider said. "Although I would say the two exhibition games are going to be valuable tools for us to kind of evaluate not only rotations, but roles as well."
Kansas' two exhibition games — against Pittsburg State on Oct. 27 and Emporia State on Nov. 3 — will be "an opportunity to get better." Which will be paramount for a team losing seven seniors from last season, including its top-four scorers.
But that sense of adjusting to a new look team applies to all Big 12 teams from Kansas, coming off a 13-18 season, to the defending national champion Baylor Bears.
"You start over, you get film out and you go to work," Baylor coach Kim Mulkey said. "We're not the same team today that won the national championship. (We're) very talented, but (we have) different personnel."
Mulkey and the Bears are vying for a 10th consecutive Big 12 title, but still acknowledge the challenges of facing the Big 12 slate. She said each team presents different challenges, such as defensive schemes or an emphasis on perimeter shooting.
"Each night you have to prepare for different styles," Mulkey said. "And you better know what you're doing because we have great coaches in this league."
Part of that struggle comes from the round-robin scheduling of the Big 12 and the challenges of playing teams two or three times each year.
"We talk about it constantly," Kansas State coach Jeff Mittie said. "There's no scheduling advantage like some other leagues where they rotate it around and they don't play certain teams."
Aston said the second time playing opponents in that round-robin schedule in particular gets tricky.
"Everybody knows practically what gum each other (are) chewing," Aston said. You have to be able to execute down the stretch of games and your toughness comes into play."
Schneider added that the Big 12 is the toughest conference in the country. Not out of disrespect to other leagues, but based on pure depth of teams.
"But night in and night out, the gauntlet we have to go through and the fact that you have to play everybody twice is what makes this conference really special and really unique," Schneider said.
Those 11 non-conference games are a way to get into a rhythm for Schneider's team and to find a team identity. He said his staff and him will check scores and watch film of other Big 12 teams during this time, but that just provides "a snapshot" of what their opponents look and play like.
"That's why you don't start playing conference (games) in November," Schneider said.
This all makes proper preparation for the Big 12 slate crucial. Mittie said there's no exact formula. Aston emphasized efficiency on both ends of the floor. Schneider divides up his scouts and assistants for specific game plans.
"We know all these players, because we've watched them — most of them — throughout the recruiting process," Schneider said of opposing players in the Big 12. "So even though a player is not with your program, there's a good chance you saw them play many, many times in the recruiting circuit, whether you were involved in the recruiting or not."
Mulkey looks at every game, even exhibitions, like "we're playing Notre Dame for the national championship."
"I tell our players, 'We're never going to go in a game where somebody does something unexpected,'" Mulkey said. "If they're better than we are, if they play better that night, you shake their hand and say, 'Hey, good job.' But always be prepared."
For KU, Schneider said the Big 12 slate is about gaining experience and continuing to develop his young team.
"Once you get to January and once you get to Big 12 play, you're in a situation where you have to be at your best every single night," Schneider said. "Not to win games, but in some instances just to be competitive."