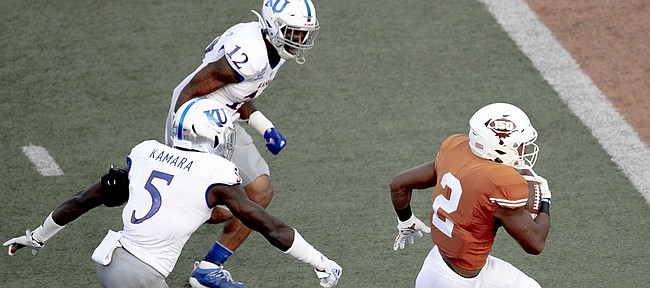 For all the relatively positive vibes a last-second defeat at Texas seemed to generate for the downtrodden Kansas football program, the Jayhawks obviously encountered some defensive issues yet again in a 50-48 loss.
As Les Miles succinctly put it during his Saturday night postgame press conference while glancing at the statistics in front of him, and reading that the Longhorns finished with 638 total yards, "That's too much."
A couple days later, at his weekly press conference, though, Miles didn't wish to address what stood out about KU's defensive shortcomings.
"Well, as much as I hate to admit it, I think their quarterback is pretty good," Miles replied, when asked about the defense's struggles, opting to praise Sam Ehlinger (31-for-44, 399 yards, four touchdowns, one interception) rather than criticize KU's defensive players.
"And I think if we'd have got him a nice tackle — if we'd have got a tackle late in the game, in the last drive, for instance, you'd be surprised how quickly the plays and the opportunities that they have to move the football dwindle," Miles went on. "So we just couldn't get that done. You know, again, the quarterback is pretty talented."
The Kansas defense, coordinated by D.J. Eliot, experienced new season worsts at Texas, with 399 passing yards surrendered and 638 yards allowed — 13 more than KU gave up in a blowout loss at TCU.
Ehlinger and the Longhorns added 60 of those yards on their decisive 60-yard drive, which concluded with a 33-yard, go-ahead field goal for Cameron Dicker as time expired.
Senior cornerback Hasan Defense provided the Journal-World with his version of what went wrong for the KU defense with the game on the line.
"They used their last timeout with eight seconds left. We could've done a better job of protecting the sideline, just keeping them in bounds, keeping the clock rolling," Defense said following the loss. "It was one of the things, I guess we just didn't relate it to the entire defense. We just came up short on one of those plays. It happens. It's football."
KU senior safety Mike Lee said on the final series Ehlinger made a point to get the ball to UT's 6-foot-6 passing target, Collin Johnson (three receptions, 47 yards on the drive).
"They were really just throwing to their tall receivers, giving them the advantage over our DBs," Lee told the Journal-World, in Austin. "He was putting the ball where they could catch it."
If anything stood out about that winning drive for senior KU outside linebacker Najee Stevens-McKenzie, it was that UT simply played "great offense."
In the days since the defeat, Stevens-McKenzie said the message KU's defensive players are getting from their coaches is not one of panic.
"Everybody do their job. Execute our assignment. Next play," Stevens-McKenzie said of what they've heard in the aftermath of the loss. "We still pride ourself on if 11 guys do their job, nobody can beat us. No mental errors, no mistakes, we can be a really good team."
KU's defense has yet to show that against Power Five competition. Even in a win at Boston College, it gave up 447 yards. In four Big 12 contests, KU opponents are averaging 550.5 yards per game.
On the season, the Jayhawks (2-5 overall, 0-4 Big 12) are giving up 32.6 points per game (106th out of 130 FBS teams), 472.1 yards per game (121st), 223.4 rushing yards per game (123rd) and 248.7 passing yards per game (89th).
Looking at the per play numbers, KU has conceded 6.05 yards per snap (93rd), 4.9 yards per rush (107th) and 7.7 passing yards per attempt (86th).
ESPN's analytics rank KU 98th in the nation in defensive efficiency.
KU opponent's yardage in 2019
• Indiana State: 146 rushing, 219 passing, 365 total (24-17 KU W)
• Coastal Carolina: 172 rushing, 119 passing, 291 total (12-7 L)
• at Boston College: 228rushing, 219 passing, 447 total (48-24 W)
• West Virginia: 192 rushing, 202 passing, 394 total (29-24 L)
• at TCU: 319 rushing, 306 passing, 625 total (51-14 L)
• Oklahoma: 268 rushing, 277 passing, 545 total (45-20 L)
• at Texas: 239 rushing, 399 passing, 638 total (50-48 L)