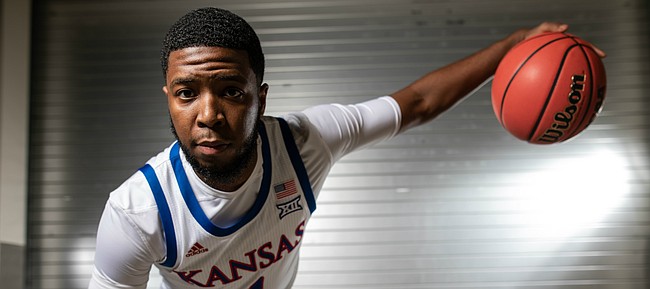 While he was brought in specifically to give the Jayhawks a serious outside shooting threat, senior grad transfer Isaiah Moss believes the Kansas lineup has more firepower than people may realize.
"During the season they talked a lot about shooting, so I knew in the offseason a lot of these guys were going to be jacking up a lot of shots and getting better," Moss explained at last week's KU Media Day. "I expected a lot of guys to be pretty good shooters and it's shown. I think we're going to surprise a lot of people with that."
Count sophomore returner Ochai Agbaji in the camp of people who don't think Moss is crazy.
"He'll probably be one of our better shooters," Agbaji said of Moss. "But we have a lot of guys who can stretch the floor, freshmen coming in, too. That's something I've really worked on and I think I can be one of those go-to guys to knock down that 3-pointer."
A minor hamstring injury has kept Moss from going full speed at practice, but the slow start has not kept him from soaking up his new surroundings.
From living the life of a Jayhawk to playing with five-star teammates and for a Hall of Fame coach, Moss said his introduction to Kansas basketball has been everything he thought it would be and more.
"It's been great," Moss said last week, one day after his 23rd birthday. "I've been learning so much since I've been out here, on the court and off the court."
As a result of being limited physically for the past month or so, Moss has been able to zero in on his attention to detail and interactions with the coaching staff. Particularly head coach Bill Self, who was a big reason Moss signed with the Jayhawks for his final season after a three-year career at Iowa.
"He brings intensity, he makes you want to play hard and he's just a great coach all the way around," Moss said of his first impressions of Self. "I didn't expect it to be anything given to me. I know I've got to come in here and work hard and try to help us win games."
The most obvious way for Moss to do that is by shooting the ball at the same clip he has throughout his college career. A 39% shooter in his three seasons at Iowa, Moss knows he was brought to Kansas to fill it up from the outside. But he also believes he can do more and thinks his coaches and teammates know that, too.
"Obviously a big part of the reason I came here was the shooting side of it," Moss said. "But I'm more than that. Hitting open shots, being aggressive, that's all real important. But whatever coach needs me to do I'm going to do. I think if I just play my game people will start to see what I bring to the table."
Self said at Media Day that he expected Moss to be able to challenge for a starting role or at least play starters minutes. That's in line with what the 6-foot-5, 208-pound guard from Chicago is used to as a college basketball player, having started 96 of 102 career games at Iowa and averaged 22 minutes per game.
But Moss realizes things are different at Kansas, both in terms of the expectations of the program and the talent of the players around him, so he's not overly concerned about the projections for playing time.
"I'm just getting better every day, learning every day, learning something new," he said. "I'm just trying to find my role on this team."