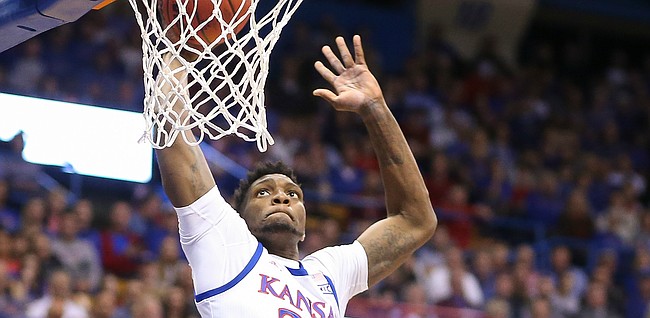 Kansas forward Silvio De Sousa will be the first to tell you that his slow start to the 2019-20 season has been a disappointment.
After the monthslong fight for De Sousa's eligibility during the offseason, the expectation was that the junior from Angola, who sat out and lost last season to an NCAA suspension, would hit the floor this season with a take-no-prisoners attitude.
Many of his teammates and Kansas fans expected every rebound to be his, double-doubles to come with ease and for De Sousa to do it all with extreme joy.
Instead, the 6-foot-9 forward looked more like he did during his first few games with the program during the 2017-18 season, unsure, a step slow and more pensive than anything.
"I feel like I'm having the same start, which I shouldn't," De Sousa said before Tuesday's 75-63 win over East Tennessee State. "The very first game (Nov. 5 vs. Duke) took me back to my first game freshman year. But I've been here long enough to know what I'm doing. … I just need to control what I can control and whatever I can take care of that's what I'll do."

That mindset, whether forced or obtained through the natural progression of things, helped De Sousa flip a switch during the past couple of outings.
After recording a total of 3 points and six rebounds in 14 combined minutes during KU's first two games this season, the junior forward has tallied 19 points and seven rebounds in 32 combined minutes during the last two.
Those numbers were more in line with what his teammates said they expected from De Sousa when talking about the 2019-20 season in August and September.
"Oh, he's going to have a heck of a season," junior guard Marcus Garrett said then. "He comes to practice with the same energy he brought to practice last year only this time he knows he can play."
Sophomore guard Ochai Agbaji agreed with Garrett and said his vision of what De Sousa could accomplish was "very scary. Good for us, though."
Kansas coach Bill Self said Thursday that all of those superlatives are still in play for De Sousa, who enters KU's upcoming trip to Maui averaging 5.5 points and 3.3 rebounds in 11.3 minutes per game.
"He's not behind where he should be," Self said. "He's probably about right where he should be because he's not a veteran."
Ever the optimist, as a person and player, De Sousa said he did not let outside expectations and preseason hype impact his preparation nor get him down in recent weeks when things did not go as others projected.
"I didn't really pay too much attention to it to be honest," he said. "I'm having a slow start to the season, but it's going to be a long season so I'm not really worried about all of that stuff. I'm just focusing on myself and how to help the team."
Self said that approach would lead to better, more consistent play from the KU forward.
Self also said there is nothing wrong with it taking De Sousa time to get comfortable given the fact that he played just one semester, without practicing much, as a freshman in 2018 and missed all of last season because of the suspension.

"Even though he thinks of himself as a veteran because he's been here long enough, he doesn't qualify (as) that in my eyes," Self said Thursday. "He's still got a month ahead of him or whatever before he can say he knows what to expect and knows the emotions he's going to feel and knows how to handle nervousness and those sorts of things. He's still going through that right now."