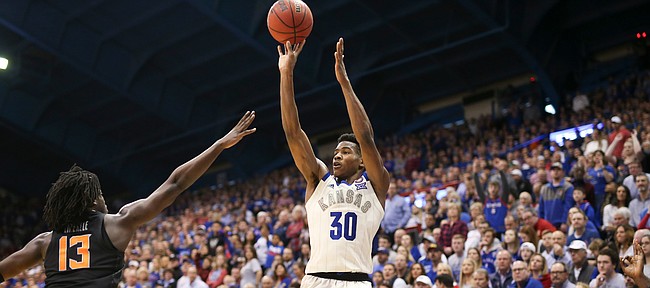 When Ochai Agbaji, Marcus Garrett or any of their Kansas basketball teammates hoist a 3-pointer next season, they could be doing so from a slightly longer distance.
The NCAA Men's Basketball Rules Committee announced on Friday it is proposing moving the 3-point line back, from the current distance of 20 feet, 9 inches, to match the international basketball arc, at 22 feet, 1.75 inches.
If the recommendation is approved in June by the Playing Rules Oversight Panel, the 3-point line will be pushed back a little more than a foot beginning next season at the Division I level.
Colorado basketball coach Tad Boyle, who played at KU in the early 1980s, serves as chair of college basketball's rules committee. Boyle said in an NCAA release regarding the proposal that "it's time to make a change."
"Freedom of movement in the game remains important, and we feel this will open up the game," Boyle said. "We believe this will remove some of the congestion on the way to the basket."
In an interview with Andy Katz, correspondent for NCAA.com, Boyle explained the statistics on 3-pointers gathered by the rules committee indicated making the change would be good for college basketball.
"The data showed us that really there's not a huge difference in terms of when the line goes back. The (shooting) percentages go down about a percentage point, but then they come back up as players get more used to it, practice it more," Boyle explained. "Really felt like it would help the spacing of our game, move players a little further away from the basket. Certainly when you've got good shooters on the floor you've got to go out and cover them. And so it's going to allow more opportunities to drive and more opportunities for post players to operate in the post."
While the committee is in favor of changing the length of the 3-point line, its members aren't recommending any concurrent adjustments for the paint.
Boyle told Katz the dimensions of college basketball's lane will go unaltered.
"We felt like by widening the 3-point line and keeping the lane the same will give us a good feel if widening the 3-point line was actually a good thing or not," Boyle said. "Certainly widening the lane may come up in future years. We'll see."
Katz also gathered feedback on the proposal from several prominent head coaches, including Bill Self, and reported most were in favor of the rule change.
"I think it's fine to move it back," Self said. "I think it would impact the game, not so much a lack of attempts, but shooting percentages will go down a bit."
During the 2018-19 season, KU shot 260-for-743 on 3-pointers (35%) over the course of its 26-10 campaign.
The Jayhawks, of course, fared much better from deep the previous year, while going 31-8 and reaching the Final Four. In 2017-18, with effective shooters Devonte' Graham, Svi Mykhailiuk, Malik Newman and Lagerald Vick in the mix, Kansas shot 391-for-974 (40.1%) on 3-pointers.
This coming season, when the proposed 3-point line change would go into effect for Division I play (not until 2020-21 for Divisions II and III), KU will likely be without its three most productive shooters from the 2018-19 roster. Vick, who only played in 23 games before leaving the team in early February, made a KU-best 66 3-pointers on 145 attempts.
Quentin Grimes shot 54-for-159 and Dedric Lawson was 35-for-89. Both declared for the NBA Draft. So did Devon Dotson, who connected on 33 of 91 3's as a freshman. But Dotson and those close to him have made it clear he is going through the pre-draft process mostly to gather feedback about his future potential in the NBA.
More committee proposals
The rules committee also made other recommendations for rules changes, including having the shot clock reset to 20 seconds following an offensive rebound.
"We felt like that would increase possessions and hopefully increase scoring," Boyle told Katz.
The committee also is recommending:
• a Flagrant 2 technical foul and an ejection assessed for a player who uses derogatory language about an opponent's race, ethnicity, religion, gender, sexual orientation or disability.
• allowing coaches to call timeouts during live-ball situations in the final two minutes of both the second half and overtime periods.
• instant replay review can be conducted if a basket interference or goaltending call comes up in the final two minutes of the second half or final two minutes of an overtime period.