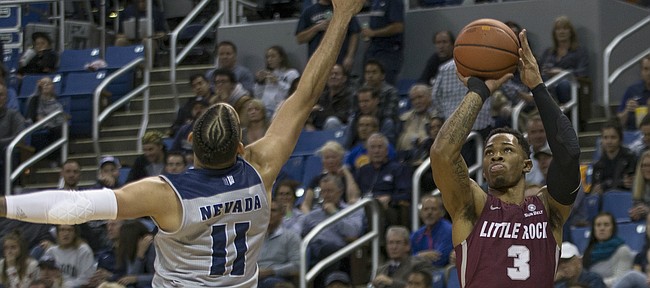 Shortly after his visit to Auburn last month, Arkansas-Little Rock graduate transfer Rayjon Tucker declared the Tigers as the team to beat in his recruitment.
Over the weekend, the Kansas basketball program, along with the city of Lawrence and KU's campus, got their shot at impressing Tucker, who appears to be zeroing in on making a decision about where he'll send his final season of college basketball next season.
Over the weekend, Tucker told John Martin, who covers Memphis for The Athletic, that he would make a decision in the coming week between his five finalists — Auburn, Kansas, Memphis, Iowa State and West Virginia.
The 6-foot-5, high-scoring, high-flying combo guard now has made visits to four of those five programs — and has said he plans to visit Iowa State before he makes a decision — was in Lawrence over the weekend and essentially live Tweeted his visit on Twitter.
Included in Tucker's updates were notes about which Lawrence hot spots he was headed to — he visited The Hawk twice — and requests for any fans of Kansas basketball to show up and show him some love.
There were no reports about how many people actually made Tucker's acquaintance, but Twitter was buzzing with KU fans trying to talk Tucker into returning to Lawrence for good sometime in the near future.
So why all the fuss around Tucker, who played one year at UALR and started his career at Florida Gulf Coast? The answer is simple and has two parts.
First, SI.com's Caleb Friedman, among others, calls Tucker "arguably the most talented transfer on the market this offseason."
Second, his size, experience, position and primary strengths — scoring and 3-point shooting — would fit in well with the Kansas roster.
After setting a school record for 3-point makes in three consecutive seasons from the 2015-16 season through 2017-18, KU's 3-point production dipped substantially in 2018-19.
The Jayhawks, as a team, made just 260 triples last season and saw their 3-point percentage dip to 35% after hitting 40.1% (on 390 makes) during the Final Four season of 2017-18.
Tucker, who reports have said is equally dangerous as a 3-point shooter and while attacking the rim, shot 41.1% from behind the arc (72 of 175) at UALR last season and is a 41.4% career 3-point shooter.
Tucker, who has declared for the NBA Draft and appears to be poised to test the waters by gaining feedback from NBA personnel later this month, would be eliigible to play the 2019-20 season at whatever school he picks provided he pulls his name out of the draft pool by the May 29 deadline.
KU, which continues to pursue both grad transfers and top talent from the prep ranks to add to its 2019 recruiting class, likely has at least four scholarships available and could have as many as five or six to give depending on what decisions current Jayhawks Dedric Lawson, Quentin Grimes, Devon Dotson and Silvio De Sousa make in the coming weeks.