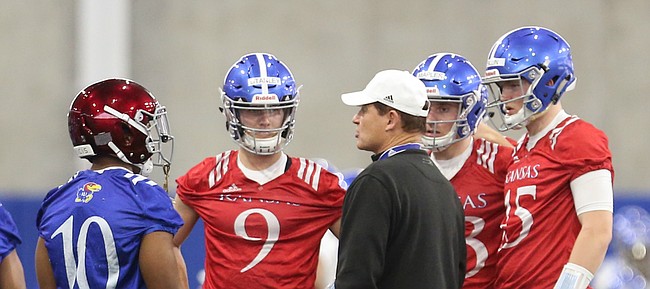 When Les Miles met with media members shortly after the conclusion of his Kansas football team's first spring practice on Wednesday evening, the program's first-year coach didn't want to reveal too much about his offensive philosophy at this early stage of the offseason.
However, Miles proved to be a little more forthcoming about some of the competition going on at three key spots for the offense.
As one would expect, the first question Miles fielded about a specific position had to do with the Jayhawks' quarterbacks.
There are currently seven QBs on KU's roster: junior Thomas MacVittie, redshirt senior Carter Stanley, redshirt sophomore Miles Kendrick, freshman Torry Locklin and walk-ons Miles Fallin, Billy Maples and Jakob Ahlschwede.
Asked what he hopes to see from the QBs over the course of 15 spring practices, Miles began his response by assessing what he likes best about the group.
"Well, I think they're decision-makers. I think that's the first thing," Miles said, quickly adding that what he needs to see next from them is execution.
"I think we're down the road with a couple of the guys," Miles went on. "Yeah, I think there's some advantages there."
KU's head coach didn't name any of the QBs while discussing them, even while responding to an inquiry regarding whether that position group will provide one of the team's more competitive battles.
"I don't know. It'll be interesting to see how time and experience of the spring will affect the quarterback group," Miles said.
A 6-foot-5 junior who played the 2018 season at Mesa Community College (Ariz.), MacVittie is the presumed frontrunner for the starting job, though he will have to win it by outperforming KU's other QBs during practices.
Stanley, a 6-2 fifth-year senior, is the most experienced of the group, having appeared in 25 games for Kansas over the course of the previous three seasons. In his career, Stanley has completed 228 of his 388 pass attempts, for 2,371 yards, with 13 touchdowns and 14 interceptions.
Elsewhere in KU's backfield, running back could prove to be the deepest and most accomplished position on the roster.
"We have a number of guys that can play," Miles said, ahead of referencing both senior Khalil Herbert and junior Dom Williams.
"Those two will be the two that we will turn to on a regular basis," he added, after referencing the current absence of the program's 2018 star, Pooka Williams, suspended from the football team by Miles this past December after being charged with domestic battery.
This past season, before Miles took over, Herbert rushed for 499 yards on 113 carries, scoring 5 touchdowns for KU. Dom Williams finished the 2018 campaign with 231 rushing yards on 55 attempts.
Pooka Williams, of course, led Kansas with 1,125 rushing yards and 7 TDs.
Miles said there is no timetable for Pooka Williams' return, calling the player's legal situation an "ongoing process." Williams' attorney, Hatem B. Chahine, stated previously he asked for a later trial date to give both sides time to sort out a diversion agreement, which was granted by the Douglas County District Court. A trial date of June 3 is set for the case.
The KU receiving corps is losing approximately half of its production from this past season with the departure of 2018 seniors Steven Sims Jr., Jeremiah Booker and Kerr Johnson Jr.
With 28 receptions for 330 yards this past fall, now junior Stephon Robinson Jr. leads members of the active spring roster in returning receiving production.
While discussing a position group that doesn't have a lot of Big 12 experience, Miles said there will "certainly be competition" at receiver, before hinting the passing attack may incorporate some players at other positions "that maybe deserve some throws."
But Miles mentioned by name three wideouts he would like to see fit into the scheme, regardless of what that turns out looking like.
"Daylon Charlot is a guy with a lot of talent, and you've got to get him on the field," Miles said of the 6-foot senior, who transferred to KU from Alabama in 2016.
"Andrew Parchment and Ezra Naylor are two guys that have height and the ability to run," Miles added of a pair of 2019 signees who played most recently at Iowa Central Community College, and join the Jayhawks as juniors.
Parchment is listed at 6-2, 185, while Naylor is 6-4, 210. Miles said he'd like to see them put "in position to make catches and do those things."
Miles didn't speak with reporters following Thursday's afternoon practice, the second of the spring.