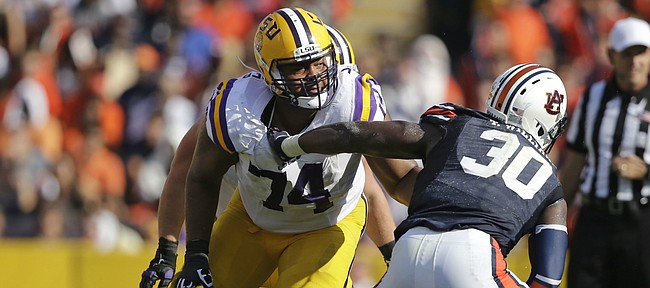 An embezzlement case in Louisiana has produced allegations that the father of an LSU football player was paid $180,000 while his son was on the team and coached by Les Miles.
Now the head coach at the University of Kansas, Miles told a Louisiana newspaper that he had no knowledge of the payments. LSU administrators have confirmed they've turned information related to the allegations over to the NCAA.
"I didn't know about it and wouldn't have expected that in any way," Miles told the Greater Baton Rouge Business Report.
A leader in the LSU athletic department told the publication that information has been turned over to the NCAA and that there is an ongoing inquiry into the matter. It wasn't clear whether the referenced inquiry was by the NCAA or was in reference to legal matters related to the associated embezzlement case, which involves a Louisiana hospital and its chief fundraiser.
"LSU was made aware of specific allegations by (Our Lady of the Lake hospitals) officials in late 2018 and made that information immediately available to the NCAA," stated Robert Munson, a senior associate athletic director at LSU. "As this is an ongoing inquiry, LSU will have no further comment."
Formerly the chief fundraiser for Our Lady of the Lake hospitals in Louisiana, John Paul Funes pleaded guilty Thursday in federal court to embezzling money from that organization's foundation. The Business Report's article says four sources confirmed that $180,000 of the stolen money was directed to James Alexander, the father of Vadal Alexander, who played at LSU from 2012-15. Court documents don't name the individual who received the $180,000.
Per the Business Report, James Alexander received those payments while Vadal Alexander was a member of the LSU football team. Nadal Alexander became a seventh round NFL Draft pick in 2016, and played two seasons for the Oakland Raiders.
Such a payment potentially could violate NCAA rules related to impermissible benefits paid to student athletes or their families. Such rules violations could subject LSU to NCAA violations.
The Business Report also outlined that Funes paid the mother of former LSU quarterback Rohan Davey $107,000. Davey, however, was not on the LSU roster at the time of the payments, and more than half that money ended up being returned at Funes' request, according to the Business Report.
KU hired Les Miles to take over its struggling football program on Nov. 18 of this past year.
Reached by the Journal-World to ask when Miles learned of the alleged payment, a KU spokesperson said Miles had no comment on the matter.