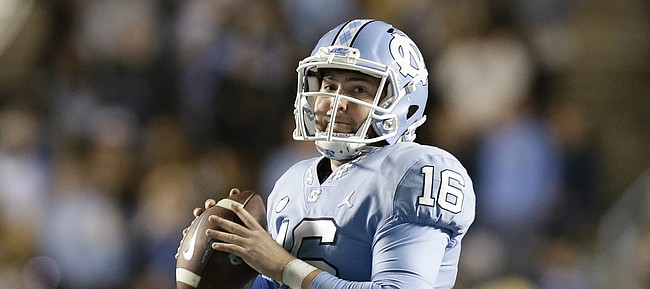 On a Sunday in late November of this past year, when he was introduced as the new head football coach at the University of Kansas, Les Miles mentioned the college football game he and his family members had attended the previous day.
The Miles clan had ventured to Chapel Hill, N.C., to see one of Les' sons, Manny, who was a backup quarterback at North Carolina.
It turns out that won't be the last time the now much busier coach will get to watch Manny play in person. In fact, Les will be seeing quite a lot of Manny in the coming months. As first reported by The Athletic, the former reserve QB and holder at UNC is joining the Jayhawks as a graduate transfer.
Manny Miles confirmed his plans to the Journal-World recently, after graduating from UNC in May.
A senior for the Tar Heels in 2018, Manny entered his name in the transfer portal a few months back. At the time, he tweeted in February his intentions to graduate from UNC and transfer elsewhere to complete his college career, with one year of eligibility remaining.
Listed most recently on UNC's roster at 6 feet and 210 pounds, Manny completed 3 of 5 career passes with the Tar Heels as a walk-on. His most memorable throw in a powder blue uniform, no doubt, came with Les and other Miles family members watching in Kenan Memorial Stadium the day before his father would head to Lawrence and officially return to coaching.
"Manny had a first half Hail Mary touchdown," Les Miles shared at his introductory press conference of a 38-yard score, the first TD pass of Manny's college career, with no time remaining on the second quarter clock, "and I can tell you that the family enjoyed that greatly."
Of course, father-son connections within some of the university's most high profile athletic programs aren't anything new at KU. Tyler Self walked on with the basketball team and played for his father, head coach Bill Self. Evan Manning, the son of Jayhawks legend Danny Manning, walked on with the basketball team, too. When Charlie Weis coached KU's football team, his son, Charlie Jr., learned about the coaching profession by helping out the staff as a student manager.
Manny Miles is more likely to serve as a holder for KU than play a factor in the quarterback competition. The Jayhawks' spring roster included six quarterbacks, and junior Thomas MacVittie completed the spring session taking first-team reps at QB, with redshirt senior Carter Stanley still not ruled out for the starting job.
The other son of Les and Kathy Miles, Ben, will be a sophomore fullback at Texas A & M this season. The KU coach's eldest daughter, Kathryn, who goes by her nickname, Smacker, has done some work for KU football as an on-field reporter in videos produced by the team since Miles took over. The youngest Miles sibling, Macy, helped Free State High softball win a Class 6A state championship this spring.
Pooka update
In an interview with Mitch Sherman of The Athletic that was published on Wednesday, Miles stated that KU's star running back, Pooka Williams, has "gone through what was asked of him," after being suspended this past December.
Reached by the Journal-World for a clarification on that statement, a KU official said Miles was referencing Williams' diversion stipulations, which were granted by the Douglas County District Court.
Miles suspended Williams from all team-related activities this past December, after KU police arrested Williams and the running back from Louisiana was charged with domestic battery.
Williams agreed to a domestic violence diversion in late March. Per his diversion agreement, Williams is required to complete 40 hours of community service by Nov. 30. He must also undergo a domestic violence offender assessment, and barring additional recommendations from the evaluator, he would have to complete an anger management course by Nov. 30.
While no official decision regarding Williams' status has been announced, The Athletic reported that a resolution on the running back's status is expected ahead of preseason camp in August.