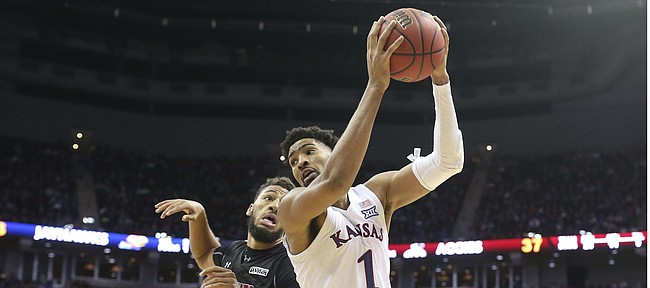 On the eve of draft night, former Kansas forward Dedric Lawson found himself in exactly the same position he had been in for the past several months.
Projected as a possible late second-round pick in Thursday's draft, — 6 p.m. on ESPN — Lawson and fellow-former Jayhawk Lagerald Vick are the only two recent KU players eligible for the 2019 NBA Draft and both are hoping to hear their names called at the podium in Brooklyn, N.Y.
Whether that happens remains to be seen, but neither player is considered a lock to be drafted.
If they are, their names will be added to the long list of Kansas players drafted into the NBA under KU coach Bill Self.
Throughout his time at Kansas, Self has produced 11 lottery picks, including a stretch of eight in a five-year span from 2010-14. In all, 25 Jayhawks who played under Self have been drafted in the past 15 years.
If Lawson and Vick don't hear their names called, it will mark the first time since 2009 that the Jayhawks have not had a player selected in the 60-pick NBA Draft.
"I don't know enough on Lagerald to comment on what people are probably saying," Self said this week while assessing the draft outlook of his two former starters. "I know that he's had several workouts (with NBA teams) and I think he has had some really good workouts and shot it well. But I don't know how that translates to (being picked). With Dedric, I do believe he's obviously got a better-than-average chance of being picked."
The mock drafts seem to be split on Lawson's chances.
ESPN.com's Jonathan Givony, who ran Draft Express for years, does not have the 6-foot-9 Memphis native and former KU All-American being selected.
Neither do The Athletic's Sam Vecenie, CBS Sports draft analyst Kyle Boone, SI.com's Jeremy Woo or NBADraft.net.
Interestingly enough, Vecenie has former Kansas State big man Dean Wade going off the board with the 60th and final pick in this year's draft.
Vick has not appeared on any of the major mock drafts.
CBS college basketball reporter Matt Norlander, however, sees it differently and believes Lawson will get picked — 58th by the Golden State Warriors, to be exact.
"Not an efficient big, not a long-range big, but too good of a player last season not to warrant being taken in this year's draft," Norlander wrote. "It's not a strong (draft) and, among lengthy power forwards, it's not exceedingly deep. Lawson was one of the 10 best players in college basketball last season, although the question with him (in the NBA) will be usage."
Regardless of who's right and who's wrong, Self is hoping for one thing for Lawson in this year's draft.
"I told him and his family (last Sunday) I just hope it's a situation where it's the right fit," Self said. "Because so often, when you go in the second round, you're going to a team that's already got 13 guaranteed contracts and now you're looking at (signing) a two-way (contract with the NBA and the G League) or whatever, best-case scenario, which may not be bad. But I hope he's in the right situation as much as anything."
As for the wild idea of Lawson returning to school if he winds up going undrafted — a rule proposal making that possible for players who participate in the NBA combine has not yet been adopted by the NBA and NBA Players Association — Self laughed off the idea of retaining his All-American forward for one more season.
"To my knowledge, that hasn't been changed yet," Self said of the rule proposal that dates back to last August. "They had to pull out by May 29th (which Lawson did not do). But (him returning to KU is) not happening, so don't try to tease anybody that that's going to happen because that's not happening."
Lawson, who participated in the NBA combine in May, has been in Los Angeles this spring working out for both the draft and the combine.
In a text message Wednesday night, Lawson told the Journal-World he planned to watch the draft with friends and family in Memphis.
"I'm just mainly excited to see where I land and grateful for the opportunity," Lawson said.