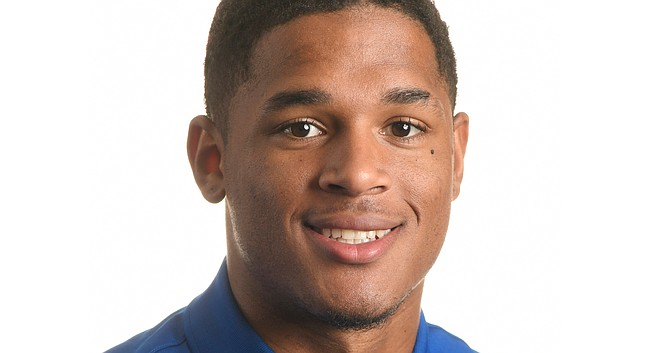 A former University of Kansas football player will face trial in connection with a woman's allegation that he choked her and pointed a shotgun in her face.
Kenny Evel Bastida, 19, waived his right to a preliminary hearing Tuesday and pleaded not guilty to all charges: two felonies, aggravated assault and aggravated battery, and two misdemeanors, criminal damage to property and possession of marijuana.
The alleged incident was reported to KU police on May 15 at Stouffer Place Apartments on the KU campus.
The victim, a woman who KU police previously told the Journal-World was not a student, told police that Bastida became angry when he lost a video game, "threw her into a dresser" and then started choking her, according to the affidavit supporting Bastida's arrest. She said he then loaded a shell into a shotgun and pointed it in her face.
Allegations in affidavits have not been proved in court.
Bastida, a linebacker from Pompano Beach, Fla., was on the KU football team in fall 2018 and throughout this spring, but he was no longer on the roster when he was arrested, the Journal-World has reported.
He has not been part of the football program since the month before the incident, according to KU Athletics officials, who didn't give a reason for his departure. He played in just four games in 2018 and ended up taking a redshirt season his freshman year.
Bastida was released from jail in May on $10,000 bond with orders to possess no guns, the Journal-World has reported, and according to documents in the case, he is now living in Florida with his mother. He is scheduled for a trial lasting two and a half days beginning Nov. 6.
Michael Clarke, Bastida's defense attorney, declined to comment for this article.