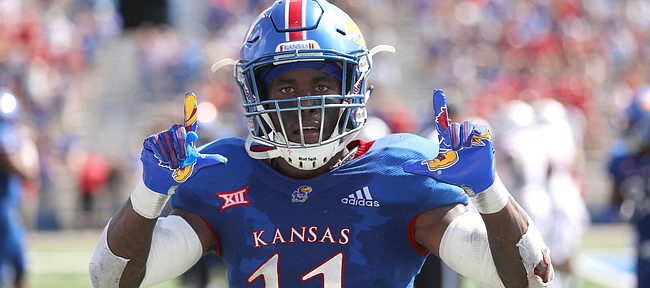 Mike Lee is not sure what to expect.
Since joining the Kansas football team in 2016, Lee has been one of the team's most confident players. And for good reason. He saw immediate playing time as a freshman, which included eight starts, and he has become one of the hardest-hitting players in the Big 12.
But Lee is now in unfamiliar territory, as he enters his final campaign with the Jayhawks.
"It is very weird," Lee said about being a senior during Big 12 Media Days. "This is going to be my first senior season. I don't know the experience and I'm not trying to get too emotional on the last ride. You will know when it hits me."
Kansas will report to preseason camp this Thursday, and Lee's last season opener will be on Aug. 31 against Indiana State.
Because Lee graduated from Landry-Walker High School to join KU a full year ahead of schedule back in 2016, this will be the only senior campaign he will ever have. As a result, Lee plans to cherish every moment this fall.
"I just want to give everything I got," Lee said. "It is my last ride. I want to give everything I got for the team. I want to make more plays for the team."
Lee has already made a number of plays during his first three seasons as a Jayhawk. He has accumulated 214 total tackles, including 178 solo stops, in 31 career games. Lee's number of tackles has decreased in each of the last three years, as Lee posted 67 stops in 2018.
But Lee admitted he has grown in other areas since his 76-tackle campaign as a freshman.
"I have got more smarter at reading the defensive schemes," Lee said. "Being more disciplined with my eyes. Showing out, and making solid tackles instead of just running at people and diving."
While much has been made of Lee's hitting ability, the 5-foot-11, 181-pound safety also wants to prove something in his final season.
"Everybody knows I can tackle," Lee said. "I just want to show people that my covers skills are DI."
In his career, Lee has recorded four interceptions and tallied four pass deflections.
Lee has taken steps to improve in that area during KU's summer workouts. Lee, along with the rest of the Kansas defensive backs, will even go head-to-head with the receivers every Saturday during their scheduled time off. They do a lot of one-on-one battles between the two position groups.
But what will it take for Lee to finally remove the stigma that he can't cover?
"For them to try me every game," Lee said.