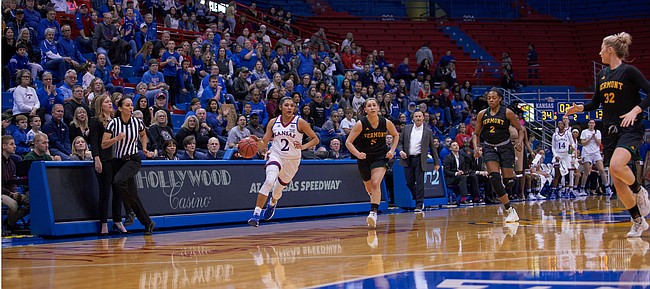 One. That's the number of losses the University of Kansas women's basketball team suffered during nonconference play in 2018.
The Jayhawks went 10-1 in their 11-game nonconference slate, outscoring opponents by 177 points in the process. Yet, in many ways, KU still has plenty to prove as it heads into the start of Big 12 play by playing host to Iowa State at 1 p.m. Saturday.
And that's exactly how Kansas likes it.
"With the group of girls we have this year, I feel like we can surprise some people," sixth-year senior Jessica Washington said. "We still feel like we are the underdogs, which pushes us in practice. It just gives us another reason to prove people wrong."
The Jayhawks have 10 wins under their belt heading into conference season for the first time under fourth-year head coach Brandon Schneider. But a large portion of KU fans are waiting for Schneider's squad to prove it against league foes.
It is not an unreasonable thing to ask as Kansas has been in this position before. Last season, Schneider's program went 9-2 against nonconference foes before posting a 3-16 record against league opponents to finish with a 12-18 overall record.
In 2016-17, KU went just 2-17 against Big 12 teams after posting a winning record in the nonconference play. In total, Schneider has netted just six of his 37 wins against Big 12 teams. KU has finished last twice and ninth once over the last three seasons in the 10-team conference.
Yet, Schneider believes this year's squad is more prepared for the Big 12 gauntlet than ever before.
"We played a much tougher schedule this year," Schneider said. "We had a stretch where we played three teams in a row that were in the NCAA tournament a year ago. We played a much better schedule. Now the Big 12 is different."
According to Her Hoop Stats, Kansas is ranked 45th out of 351 teams via its overall rating. All but one team in the Big 12 is ranked inside the top-82. Kansas already has three wins in four games against teams ranked inside the top-80, defeating LSU (No. 41), Washington State (No. 80) and Northwestern (No. 47).
More than that, though, this team has developed an identity through its first 11 games. The Jayhawks boast the 33rd-best defensive rating in the nation, per Her Hoop Stats. Kansas demonstrated that by holding Vermont to 36 points, including just 2 points in the second period, in the final game of 2018.
Kansas is also more experienced than it has ever been in the Schneider era. Christalah Lyons, Chelsea Lott, Brianna Osorio, Austin Richardson, Kylee Kopatich, Sara Boric and Washington are all a part of a large senior class that should help lead the way. The veteran unit has already stressed the importance of strong starts, as KU has outscored opponents 208-116 in the opening period.
"I think we are a really good time this year and I think we are going to compete well in the Big 12," Osorio said.
Now, all Kansas has left to do is prove it on the court.