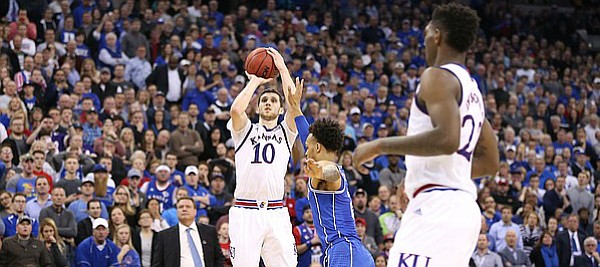 The past 12 months provided no shortage of memorable and exciting games throughout the University of Kansas sports calendar.
From high-stakes postseason affairs to epic regular season showdowns, the Kansas basketball team was involved in a bunch of games during 2018 that will be talked about for years.
Before the Jayhawks get going with another round of memories in 2019 — fifth-ranked Kansas opens Big 12 play at 8 p.m. tonight against No. 23 Oklahoma — here's one last look at the games from 2018 that people were talking about long after the final horn sounded.
• Kansas knocks of Duke in Elite Eight
From the jump, this game felt more like a Final Four matchup than a regional final and the top-seeded Jayhawks and second-seeded Blue Devils needed overtime to decide it. KU guard Malik Newman caught fire down the stretch and in OT, but it was his defense on Duke senior Grayson Allen with the game on the line — along with a game-tying 3-pointer in the final minute of regulation from Svi Mykhailiuk — that sent KU to the 85-81 victory and delivered a trip to the Final Four in San Antonio.
• Another KU comeback vs West Virginia
Kansas comebacks against West Virginia have been a familiar site during recent years, but this one was different. Trailing by 16 points in the first half, 13 at the break and still by 12 midway through the second half, the 10th-ranked Jayhawks stunned No. 6 West Virginia, 71-66, to give KU its first win in Morgantown in five years.
• Jayhawks topple Texas Tech in Lubbock
While that win in Morgantown set the stage for KU to make another run through the conference, it was this win in Lubbock, Texas, that clinched Kansas at least a share of the 2017-18 Big 12 regular season title, moving KU past UCLA and into first place all alone for the NCAA record. Seniors Devonte' Graham and Svi Mykhailiuk carried No. 8 KU in this 74-72 victory over the sixth-ranked Red Raiders, which featured a circus shot from Graham at the rim late in the action.
Kansas reaches yet another Sweet 16
After sophomore center Udoka Azubuike sat out nearly all of KU's first-round win over Penn two days earlier, the Jayhawks faced a tough Seton Hall team in Round 2 and got a strong showing from the previously injured 7-footer in Wichita to push Kansas into the Sweet 16 for a third straight season. Azubuike's 10 points and 7 rebounds in 22 minutes helped offset a monster game from Seton Hall senior Angel Delgado and KU advanced, 83-79.
• Jayhawks win Rd. 1 of Sunflower Showdown
In a game that saw K-State outscore the Jayhawks 30-15 during the final 15 minutes of the first half, KU outscored the Wildcats, 39-38, in the second half and secured a wild, 73-72 victory when Malik Newman hit a pair of free throws with 15 seconds to play, just before KSU guard Barry Brown's last-second attempt at a game winner clanged off the rim.
• Kansas gets over Oklahoma State hurdle
After falling at Oklahoma State, 82-64, in the regular season finale and losing to the Cowboys, 84-79 at home in early February, KU drew OSU in the quarterfinals of the Big 12 tournament and finally got a victory, 82-68, on the strength of a 30-point night from Malik Newman — dubbed the rest of the way as "Postseason Malik" — and a strong showing off the bench from freshman Silvio De Sousa in place of the injured Azubuike.
• Revenge vs. Villanova
In one of the most highly anticipated regular season games in years, Kansas got a dose of revenge for its Final Four loss to Villanova by knocking off the defending national champion Wildcats, 74-71, at Allen Fieldhouse in mid-December. Behind 29 points from senior Lagerald Vick, KU finally put away a scrappy Villanova bunch despite playing without injured big man Udoka Azubuike. Dedric Lawson added 28 points and 12 rebounds to help KU move to 9-0.
• KU falls at Oklahoma after Dok's FT struggles
One of two losses on this list got a lot of attention because of OU coach Lon Kruger's Hak-a-Dok strategy that cost the fifth-ranked Jayhawks down the stretch during an 85-80 loss in late January. Azubuike, who entered the game as a 41 percent free throw shooter, missed six in a row down the stretch as No. 12 Oklahoma stormed back to win a game it trailed for roughly 90 percent of the second half.
• Kansas smothers Sooners at Allen Fieldhouse
In the rematch with the Sooners on Big Monday in mid-February, No. 8 KU limited OU sensation Trae Young to 11 points and five turnovers on 3-of-13 shooting in a 104-74 drubbing at Allen Fieldhouse. Six Jayhawks scored in double figures and Kansas hit 16 of 29 shots from 3-point range to avenge a loss at OU earlier in the season.
• Jayhawks run into Villanova buzz saw at Final Four
Facing another of the 2018 NCAA Tournament's No. 1 seeds and eventual national champion in a national semifinal in front of 68,000 fans at San Antonio's Alamodome, the Jayhawks fell, 95-79, under a barrage of 18 Villanova 3-pointers that set an NCAA Tournament record. The game, which was a rematch of an Elite Eight game in Louisville from two years earlier, was hyped up all week and then was over in about 10 minutes.