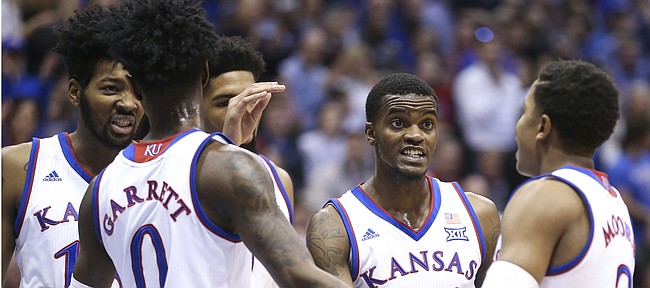 No. 5 Kansas Jayhawks (11-1) vs. No. 23 Oklahoma Sooners (11-1)
Time: 8 p.m. | Location: Allen Fieldhouse, Lawrence, Kansas
TV: ESPN2 | Radio: IMG Jayhawk Radio Network
Not going to be home for the game? Sign up for ESPN+ and watch your Hawks on the go.
Log on to KUsports.com for our live game blog coverage and follow the KUsports.com staff on Twitter: @KUSports @mctait @bentonasmith & @SJacksonLJW
Keys for Kansas
1. Turn it up
Tonight marks the official beginning of the Jayhawks' quest for a 15th consecutive Big 12 regular season title and even though there are still 17 games remaining over the next nine weeks, Kansas coach Bill Self said this week that getting off to a fast start had a dual benefit for the Jayhawks.
"I don't know if you talk about the league race getting off to a fast start," he began. "You just talk about playing well early. It's such a long grind; 18 games is a long time. You don't want to put too much emphasis on one game but in the big picture it certainly behooves you to get off to a good start."
That means better focus, added intensity and extra attention to taking care of the defensive end, not just tonight but in every game the rest of the season.
"That's kind of expected here," KU junior Mitch Lightfoot said Monday. "You're going to get everybody's best shot and you've got to prepare likewise. You have to go out there every night and perform, and we're excited to get out there and figure out this conference season."
2. Self vs. Kruger
A year ago, during an early Big 12 game at Oklahoma, the Jayhawks had a late lead and the chance to salt away the game at the free throw line, but Self left then-sophomore center Udoka Azubuike in the game and allowed the Sooners to continually foul him, putting one of the conference's worst free throw shooters at the line in a pressure situation.
Azubuike missed enough to allow the Sooners to steal the victory and even though Self stood behind the move after the game — and still stands behind it today — that is just one example of how important coaching decisions can be in games of this magnitude.
The loss did not cost the Jayhawks their conference streak, but it did make it much harder to capture Big 12 title No. 14 in a row.
Monday, Self talked about his appreciation for OU coach Lon Kruger and both coaches figure to find themselves in a few situations where a right decision here or a wrong one there could determine the outcome of the conference opener.
"Lon is one of the most respected guys in our business," Self said. "He can really coach and that has been evident everywhere he's been — K-State, Pan American, Florida, Vegas (UNLV) and OU, an NBA head coach and NBA assistant coach in between. He's one of the most liked, and he's easy to like because he's such a good dude, but he's one of the best tacticians. I think he does a good job as anybody in playing mismatches. I think he and Jay Wright (Villanova) do about as good a job as anybody with that, playing to switches and mismatches. He's good and OU will always be good."
3. Dictate style of play
With a balanced and versatile lineup featuring a variety of big men, interchangeable pieces and fast guards, the Sooners can play just about any style of game needed.
That fact, combined with extreme confidence, a group of veterans and Kruger at the helm makes OU a serious test for a Kansas team still trying to piece things together.
The Jayhawks have a couple of obvious advantages in this one, but they have to make them count. The first, playing a high-stakes game on their home court, can help carry the Jayhawks through whatever lulls might arise.
The second, the return of Azubuike, could be enough to put Oklahoma in trouble, provided the Jayhawks are patient enough to play through their 7-foot center with consistency.
"Statistically, they are very good defensively," Self said of an OU team that ranks eighth nationally in defensive efficiency. "They are a very good rebounding team. They are bigger than what you think. When you can play (Brady) Manek at the 4 and (Jamuni) McNeace at the 5, that's as tall as anybody in our league. They've got big wings and a couple of guards that are new that create pace and are hard to pressure."
While the Jayhawks and Sooners are both Top 10 teams in defensive efficiency, it's KU's 14th ranked offensive efficiency number, per KenPom, that could provide separation here. The Sooners rank 62nd in offensive efficiency.
That, along with an OU defense that holds opponents to just 40.9 percent shooting on 2-point shots — fourth in the country — sets the stage for a classic clash between OU's D and KU's offense.
Mega Matchup
KU's perimeter defense vs. Oklahoma senior Christian James
Once projected to slide into the role previously held by Oklahoma star, OU senior Christian James is finally playing like it.
A big part of the Sooners' rotation since his freshman season, James has really developed his all-around game and is started to reap the benefits of his ability to be more than just a great athlete on the floor.
"Christian James has taken his game to the next level," Self said Monday. "As of right now, he would have to be the most improved player in our league, based on where he was. Even though he was a good player last year, he's a terrific player. He's definitely a first team all-leaguer."
Asked to explain what looked different about James on film, Self said he was unsure about the specifics of what went into his offseason work and nonconference development, but made a guess at why things looked so much more explosive this season for the senior from Houston.
"Maybe confidence," Self said. "Maybe freedom. But certainly being able to go get his own (shot) on his own and every time he shoots the ball you think it's going in. He looks awfully good to me and everybody else."
The 6-foot-4, 213-pound guard has enough to his game to be effective all over the floor and, because of that, Quentin Grimes, Lagerald Vick and Marcus Garrett all figure to spend time trying to frustrate him and slow his game.
James enters this one averaging 17.9 points and 7.2 rebounds per game while also ranking third on the team in assists and steals.
Jayhawk Pulse
There was a lot of talk this week around the KU basketball facilities about what it takes for the young Kansas players to "flip the switch" in time for the start of Big 12 play.
Both Self and KU junior Mitch Lightfoot said this week they believed the younger players and KU newcomers will be ready for the new level and Self explained that it's a mindset as much as anything that can help a team navigate its way through the 18-game grind that is the Big 12 schedule.
With that said, Self added that, at this point in the season, he was just as willing to let his young players experience it for themselves rather than talking to them until he was blue in the face about what's to come.

"We haven't talked to the group what it takes to win the league," Self said. "But we will certainly focus in on that, the things you have to do to be consistently good over a span of two and a half months, which isn't easy to do. You need to be even keel. There will be peaks and valleys but they don't need to be spikes. They don't need to be like the December (financial) market. It needs to be something that you kind of grind through it but you can't pass up opportunities to take advantage of good nights, good situations. I just looked at the OU game from last year when we played in Norman. We played great, had a nine point lead in the second half. You have to win that game and we didn't. Those are the types of things, you have to take advantage of winning those close games when you get an opportunity to because there will be a lot of them."
The Sooners enter this one on a seven-game winning streak and with three true road wins already this season. Playing in Allen Fieldhouse on its own won't intimidate these guys and it'll be up to the Jayhawks and the home crowd to bring their A game to change that.
Probable Starters
No. 5 Kansas
G – Devon Dotson, 6-2, 185, Fr.
G – Quentin Grimes, 6-5, 210, Fr.
G – Lagerald Vick, 6-5, 190, Sr.
F – Dedric Lawson, 6-9, 235, Jr.
C – Udoka Azubuike, 7-0, 270, Jr.
No. 23 Oklahoma
G – Aaron Calixte, 5-11, 179, Sr.
G – Christian James, 6-4, 213, Sr.
F – Kristian Doolittle, 6-7, 232, Jr.
F – Brady Manek, 6-9, 222, Soph.
F – Jamuni McNeace, 6-10, 232, Sr.