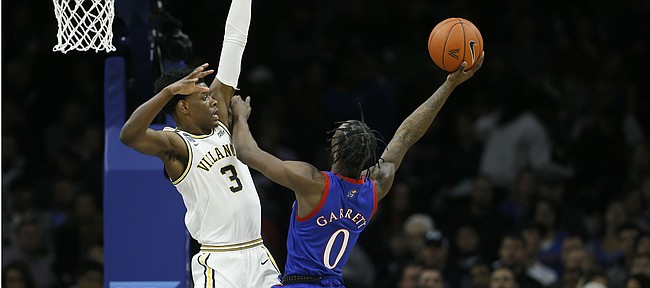 Philadelphia — It's hard enough to try to beat ranked teams on the road with your entire roster in tow.
But it's even tougher to do when you lose your most experienced player and best defender to injury after just 13 minutes.
That was the case for No. 1 Kansas during Saturday's 56-55 loss to No. 18 Villanova at Wells Fargo Center. And while no one in the Kansas locker room was using the Marcus Garrett ankle injury as an excuse after the game, coaches and players from both sides acknowledged that Garrett's absence changed the game.
"Seeing him go down in the first half kind of brought our team down," sophomore guard Ochai Agbaji said after the loss. "It was hard. But he was talking to us throughout the second half. It was a tough loss, but still having him there to support us was good."
The junior guard went down after a tough drive to the basket late in the first half. After absorbing contact on a missed shot, he fell to the floor and immediately grabbed for his right shoe, writhing in pain, after appearing to roll his right ankle.
Although he got to his feet on his own, Garrett walked gingerly off the floor and was helped to the bench by KU trainer Bill Cowgill and teammate Elijah Elliott.
KU coach Bill Self said after the loss that he did not know the full status of Garrett's injury or have a timetable for his return.
"He's our toughest kid," Self said of Garrett. "And these guys would agree with me on that. So if he says he can't play then it's probably not good. But I don't think it's going to be something that drags out to conference play, but we don't know yet."
Sophomore point guard Devon Dotson said playing without Garrett's calming presence was the worst part of having the junior guard on the bench.
"It was tough," Dotson said. "You know, he's kind of our defensive head and he can cause havoc out there on defense. And on the offensive end he can settle it down and get everybody going. It was hard missing him, but it was next man up and we fell a little short today."
KU freshmen Christian Braun (6 points on 3-of-5 shooting, 2 rebounds and a block in 16 minutes) and Tristan Enaruna (3 points and 3 rebounds in 20 minutes) played extended minutes in Garrett's place, and Self said their performance was one of the few bright spots of Saturday's setback.
"Our bench hadn't been nearly as effective as we had hoped it would be at this point," Self said. "And that was probably the best game that those two guys have played, at least collectively. So I thought they did some good things. I was very encouraged by that."
Embiid & Woodland in the house
Dressed in all black and sitting courtside along the baseline near the KU bench, Philadelphia 76ers All-Star Joel Embiid took in Saturday's game from a different point of view than he's used to having inside Wells Fargo Center.
Embiid, of course, was the No. 3 pick of the Philadelphia 76ers in the 2014 NBA Draft following his lone season at KU.
Clearly cheering for the Jayhawks, Embiid never was introduced to the pro-Nova crowd on Saturday, but he heard cheers and shouts of adoration from both Villanova and Sixers fans throughout the game.
Asked by the Journal-World at halftime how he felt about the Sixers schedule working out in his favor so he could watch his alma mater, Embiid said simply, "It's great. I got lucky and I'm glad I could be here."
Former KU golfer, the reigning U.S. Open champion also was in attendance at Saturday's game, fresh off of helping Team USA win the Presidents Cup.
Self said Embiid visited with the Jayhawks after Saturday's loss.
"He talked to us after the game," Self noted. "(He said), 'Keep trying.' Profound words of wisdom."
Bon voyage
After most road games, the Jayhawks travel back to Lawrence together as a team, either celebrating or soul searching on the trip home.
After this one, most the Jayhawks rushed to the Philadelphia airport to head home for the holidays and a much-needed few days off.
Self said the Jayhawks would be off until Dec. 26, when they would return to Lawrence to begin preparations for their Dec. 29 game at Stanford.
"We like playing the last game before break on the road for NCAA rule purposes because that can obviously help get kids home," Self noted of the NCAA allowing universities to fly their players to their hometowns after road games right before the holiday. "But it's not an easy game, though. It is a hard game."
KU is now 3-2 in those such games during the past five seasons, with the other loss also coming in Philadelphia via a 77-52 drubbing by Temple on Dec. 22, 2014.
This and that...
Villanova now leads the all-time series with Kansas, 5-4, including victories in three of the past four meetings... Villanova is now 7-16 all-time against the No. 1-ranked team in the Associated Press Top 25... KU was the AP No. 1 in the Wildcats' last three games against the nation's top-ranked teams... KU is now 1-2 against teams ranked in the AP Top 25 this season and 99-51 against AP Top 25 teams in the Bill Self era... Kansas and Villanova combined for just 12 free throw attempts on Saturday, the fewest by KU and an opponent since the 1988-89 season... Villanova's 23 points in the first half marked the third time in the past four games than KU held an opponent to fewer than 25 points in the first half... On the flip side, KU's 55 points were the fewest by a Kansas team on an opponent's court since Kansas tallied 52 against Temple in 2014. Kansas is now 9-17 in the Self era when scoring fewer than 60 points... Villanova's 56 points were the fewest by a KU opponent in a victory since Iowa State defeated Kansas while tallying 52 points on Feb. 28, 1999. It marked just the second time in the Self era that a KU team has lost when holding its opponent to fewer than 60 points. The Jayhawks are now 172-2 in those instances since 2003-04, with the only other time being a 59-55 loss to Kansas State on Jan. 14, 2006.