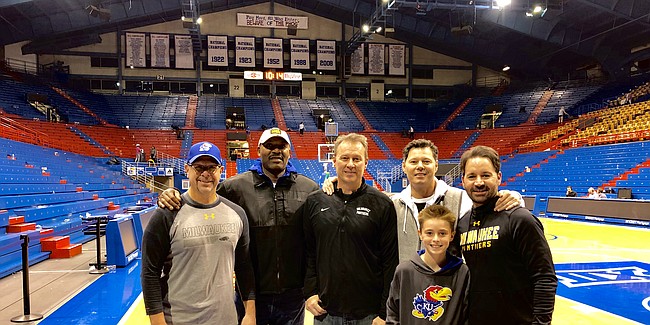 Before Tuesday's 95-68 rout of Milwaukee at Allen Fieldhouse, Ochai Agbaji's father, Olofu, told his son to go easy on the Panthers.
The reason? Both Olofu and Agbaji's mother, Erica, attended and played basketball at what was then known as the University of Wisconsin-Milwaukee during their college days.
Beyond that, Olofu had a handful of former teammates in town for Tuesday's game, a trip and reunion that was planned "as soon as the schedule came out."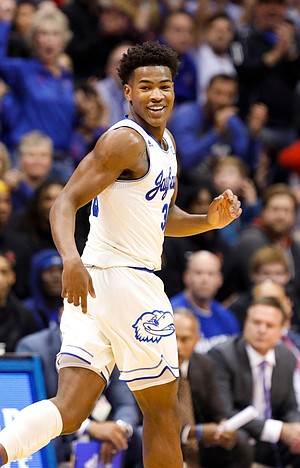 Torn between supporting his friends and former school in black and gold and his son in crimson and blue, Olofu did the only thing he could think of to even out his allegiances — he wore a Milwaukee hat and a KU jacket.
And then he saw his son score nine of KU's first 11 points and explode for 22 points and eight rebounds to help lead the second-ranked Jayhawks to the easy win.
"I think he had a special purpose today," Olofu said of Agbaji's second consecutive big game. "I think he saw the hat."
Truth be told, it was hard to miss. And so were the smiles on the faces of Olofu's basketball buddies, all of whom made the trip to Milwaukee for Tuesday's game and their first experience at Allen Fieldhouse.
To get that while watching the suddenly-grown-up son of one of their dearest friends have a monster night only made the trip more memorable for the four friends from Milwaukee.
Agbaji went nuts from the outside in Tuesday's victory, knocking in three 3-pointers to open the game and five of the eight he attempted on the night.
But by far his most memorable moment came in the second half, when he finished a long-distance lob from Devon Dotson with a reverse jam over his head and left shoulder.
"That was probably for them," Olofu joked of the dunk being a welcome-to-Allen-Fieldhouse gift from his son. "It impressed me."
Olofu said he provided no primer for his friends on what to expect from Allen Fieldhouse or his son's game.
"Nothing," he said. "I just let them come and experience it. But they've been watching him and following him. They know what to expect."
Although Agbaji knew his dad's friends were in the crowd on Tuesday night, his introduction to them first came in the autograph line after the game when Jack Westerman, the young son of former Olofu teammate Jim Westerman, asked for the KU sophomore's signature on a KU poster.
"We wanted to get an autograph from everybody on the team," Jim Westerman explained. "And Jack told Ochai, 'I came all the way from Milwaukee just to see you play.' And Ochai's eyes lit up and he said, 'I was born in Milwaukee.'"
That he was, on April 20, 2000, and a few years later the Agbaji family moved to Kansas City, Mo. Several of Olofu's friends remembered Agbaji from when he was real young, but none of them had ever seen him quite like they saw him on Tuesday night.
"They moved away 15 years ago," said Mike Haessly. "And we grew up with them. We've stayed in touch, but we didn't really see their son a lot. So to see him grow up like this and play in this environment, it's awesome."
Added Paul Halstead: "I just remember him running around the gym when we would shoot around and just going, 'You never know.' O was super raw, just a raw talent and big, athletic body."
Now that Agbaji is big and athletic in his own right like his father used to be, these four friends from Milwaukee are eager to see what his future brings. And they were thrilled to have their first official introduction come in a place celebrated across the college basketball world.
"Oh, just everything about it," said Mike Gramins when asked what he liked most about his Allen Fieldhouse experience. "It's different. A lot of history. I mean, you look at the players who have played here and now Ochai's following in their footsteps. He's definitely a better player than his dad. But not his mom."
For what it's worth, Olofu averaged 5.1 points and 4.1 rebounds for the Panthers during his two seasons in Milwaukee from 1990-92. His best run came during the 1991-92 season, when he averaged 7.3 points and 4.9 rebounds in 29 minutes per game.
After a slow offensive start to the 2019-20 season, Agbaji now has topped 20 points in his past two games, shooting 14-of-23 in the process, including a 64% clip from 3-point range.
He also has 20 rebounds and five assists in 35 minutes per game during wins over Colorado and Milwaukee.
Agbaji and the Jayhawks (8-1) will look to make it nine wins in a row at 4 p.m. Saturday against Kansas City at Sprint Center.