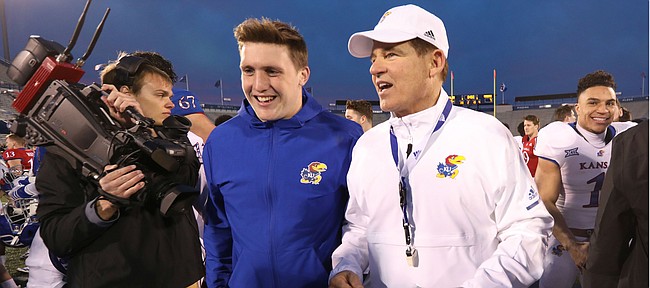 For the first time in his collegiate career, Jay Dineen doesn't have his brother around the Kansas football facility.
As the only Dineen left with the Jayhawks, the redshirt sophomore linebacker knows better than anyone that it will be no easy task replacing his older brother this year. Joe Dineen Jr., who is now with the Denver Broncos, is KU's all-time leader in career tackles for loss (45.5) and ranks fourth in the program's record books in total career tackles (386) after all.
Jay Dineen is eager to prove something this fall with his older brother no longer anchoring KU's defense.
"Having one (brother) with me in my first two years was awesome, but finally being able to not be the little brother is going to be fun," Jay Dineen said. "Finally show them that I can do it."
In the Jayhawks' first official depth chart, which was released Monday afternoon, Dineen was listed on the two-deep at his position. Dineen or sophomore Cooper Root will serve as Kyron Johnson's backup at the 'MIKE' linebacker spot.
As a result, it is evident that Dineen will have bigger role on this year's defense than his previous two seasons. Dineen, who is from Free State, saw action on special teams in eight games last year. He had just one unassisted tackle, which came against TCU.
"Jay Dineen is doing a really good job there," KU head coach Les Miles said following the team's 19th practice of preseason camp.
But it wasn't that long ago that there was some serious doubt about Dineen's chances of seeing the field.
After tearing his meniscus, Dineen started to put on weight due to the fact he couldn't do any conditioning or lifting. Dineen admitted that he wasn't eating right, and ultimately got up to 247 pounds by the end of last year. It led to an important meeting with the previous coaching staff.
"They told me, 'We want you to play, but you have to lose weight,'" Dineen said. "I took that to heart, and actually started doing it."
Dineen leaned on the advice of KU's dietician Stacey Potter and started focusing on eating right. He put in the extra work in his conditioning as well, trimming his weight all the way down to 225 pounds during preseason camp.
The results have been noticeable already. Dineen is make more tackles in the open field than ever before, an area that he has struggled with at the collegiate level.
"In years before, I'd act like I tackled them on a touch off but I probably wouldn't have actually made the tackle," Dineen said. "Now I'm actually fitting them up and being able to run with them."
Dineen has improved in his pass coverage as well, which is really a testament to his improved speed as well as watching plenty of his own film. Dineen has become better at anticipating what type of routes opposing running backs will run in his zone.
It also helps that Dineen — along with the rest of the KU linebackers — square off with a talented backfield on a daily basis.
"Those (players) are going to be the better backs that we see in the league," Dineen said. "If we can play with those guys, it makes us feel like we can play with anybody in the league."
But do the linebackers ever win any of those battles against running backs Pooka Williams Jr., Khalil Herbert, Dom Williams and Velton Gardner in practice? Well, fans will just have to take Dineen's word for it.
"Oh yeah, of course," Dineen said. "All of them."