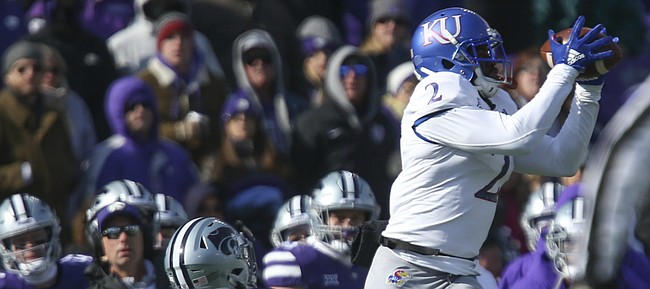 It's not uncommon for a successful football offense to feature a go-to receiver in the passing game. A target who is not only reliable but also possesses the kind of athleticism and instincts that lead to chunks of yardage and quick-strike touchdowns.
If such a player surfaces in the weeks ahead for the Kansas football team, you won't hear any protests from receivers coach Emmett Jones.
Maybe senior Daylon Charlot leads KU in receptions by a landslide. Perhaps junior Andrew Parchment delivers a breakthrough season. For all one knows days ahead of KU's season opener, junior Stephon Robinson could outproduce the rest of his fellow receivers.
Even if no such scenario transpires, the absence of a clearcut No. 1 wideout won't alarm Jones, as long as his bunch is productive overall.
As a group, Jones envisions KU's receivers providing the offense with the output needed in the passing game.
"It's collective. Within that collection, you have some weapons in there," Jones said, sharing his expectations in his first year working for head coach Les Miles. "You need to respect every guy that we put out there. Don't just lock in on one, because that guy inside may destroy you. That's just the way I try to build it. That's where we're going with these guys."
On the first KU football depth chart to be published, the names of nine receivers appeared at the three receiver positions, headlined by starters Charlot, Parchment and Robinson. Those three and reserves Kwamie Lassiter II, Kameron McQueen, Evan Fairs, Jamahl Horne, Ezra Naylor and Quan Hampton have learned under Jones throughout the offseason.
Parchment, a 6-foot-2, 180-pound junior college transfer who joined the program in January, said all of the receivers are entering the season with confidence, because they have "the best receiving coach in the country," in Jones and they've meshed well as a result.
"He challenges us every single day to get better," Parchment said. "I feel like we're a very close knit group. We have a group text, we talk to each other every single day, we joke around. It's a lot of fun. It's all fun."
Consequently, the receivers aren't too concerned about who among them might become the go-to target for KU's starting quarterback — regardless if that ends up being Thomas MacVittie or Carter Stanley.
"I feel like everybody can be the number one guy, especially in our room," Parchment argued. "We have a bunch of diverse guys."
Robinson, the group's leading returning receiver (28 catches, 330 yards in 2018), has impressed teammates throughout the past several months and was the first Parchment referenced while giving a rundown of Jayhawks he expects to see contributing — a list that included Lassiter, "a game-changer" in Charlot, McQueen, Hampton and Takulve Williams, too.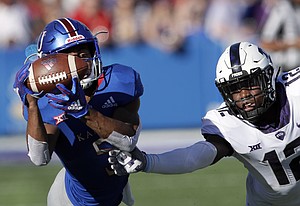 "We've got a bunch of guys that can play everywhere," Parchment asserted. "So it's just whenever our number is called we try to perform to the best of our ability, and we just try to make some plays for the team."
Asked to predict who might lead the receivers in receptions this year, Robinson, a 5-10, 180-pound junior, said he couldn't answer that inquiry.
But he agreed with Parchment that the passing game can be effective for KU's offense without an obvious No. 1 playmaker.
"Our mindset going out there is we're going to attack, attack, attack, whether that's in the passing game or in the run game," Robinson said. "So whenever a corner or safety is up on us man-to-man, we're expecting to come out with the ball, make those 50-50 plays no matter what."
According to Parchment, the receivers think all of them will have opportunities this year to make plays, because offensive coordinator Les Koenning and Jones get together and try to zero in on specific calls and situations that showcase each receiver's strong suits.
And while little is known to outsiders about the specifics of how KU's offense will operate in Year 1 of the Miles era, it appears Koenning and his staff don't plan on building the passing game around one or two Jayhawks.
"Just with the whole offense," junior QB MacVittie said, "we're getting the ball to a lot of players. It's not just outside guys. It's not just tight ends or the inside guys. I think every receiver probably gets two, three, four, five, six catches a practice. So we're spreading the ball around a lot."
That strategy matches Jones' philosophy about coaching receivers, as well.
"I was brought up to have guys on the football field that are a threat in any type of way — whether it's a three-receiver set, two-receiver set, one-receiver set or four-receiver set," Jones said. "All those guys have to pose some type of threat."
Only those who have observed KU's closed practices have a real feel for whether a No. 1 receiver, the type who could finish the season with 20 or more catches than each of his teammates, has turned up during August practices.
Even if one hasn't, Jones said a team doesn't necessarily have to have one.
"But it might help out a little bit," Jones added. "I think every receiver you put out on the football field needs to demand some type of respect from the opponents. It can't be one guy."
Receivers listed on KU's published depth chart
Z WR: Stephon Robinson
Evan Fairs
X WR: Daylon Charlot
Kameron McQueen
Jamahl Horne OR Ezra Naylor
H WR: Andrew Parchment
Kwamie Lassiter II
Quan Hampton