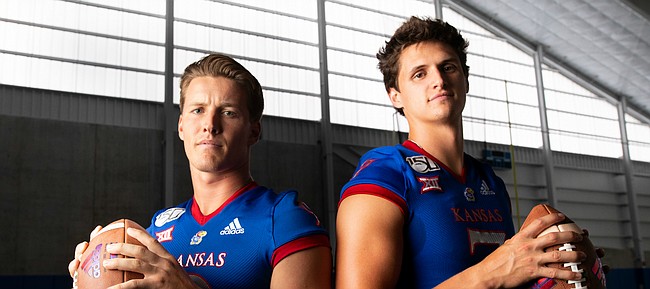 A few minutes into his press conference as part of the Kansas football team's media day on Friday, head coach Les Miles, before fielding questions, had a couple to present to the auditorium.
"Let's see. Should I go into quarterbacks, too?" Miles asked, in the midst of his opening remarks. "Or should I wait for you guys to ask that question. I might as well, right?"
Miles got in front of the QB query, because he and his assistants still haven't seen enough out of either junior Thomas MacVittie or senior Carter Stanley after two weeks of preseason practices to answer the question: who will start the Aug. 31 season opener?
Speaking with reporters for the first time since before the spring game, both MacVittie and Stanley said at KU's media day they weren't especially surprised that the competition remains in a holding pattern two weeks out from the team's debut.
"I think the whole QB room, we bring it every day," Stanley said, mentioning not only MacVittie, but also redshirt sophomore Miles Kendrick, freshman Torry Locklin and graduate transfer Manny Miles. "We're all gunning for it and coach is going to have to make a decision."
MacVittie, meanwhile, offered that the ongoing QB competition just adds to the intrigue around the program.
"I hope it comes down to like a week before the game," MacVittie said. "Competition's fun. Competition breeds excellence and brings the best out of you. It's going to be a fun year."
MacVittie just may get his wish regarding an extended QB race. Actually, Miles said his timeline for naming the starter could stretch to the day KU plays against Indiana State.
"Game week or just after the game," Miles joked of when he might finally make public his choice for KU's No. 1 QB. "Of course, the announcement at that time's not necessarily the most original piece of information."
That scenario wouldn't be anything new for Stanley, who now as a fifth-year senior, has experienced his fair share of preseason QB battles.
"I wouldn't say it's too different," the 6-foot-2, 198-pound Vero Beach, Fla., native said. "It's all about going out there every day and doing your best and putting your team in the best situation."
Stanley started two games for KU in 2018, after losing out in that preseason competition to Peyton Bender. Stanley went 34-for-47 (72.3 percent) through the air, throwing for 304 yards and three TDs, with one interception, while appearing in seven games total.
Since then, Stanley said offensive coordinator and quarterbacks coach Les Koenning has helped him improve his fundamentals at the position and guided Stanley to realize how important those little parts of QB play can be for timing and processing plays.
Ultimately, Stanley's annual QB battles at Kansas might give him an advantage, because he's been through all of this before.
"Yeah, I'd say just being around the game at this level, going into my fifth year now, I think it's safe to say that my football IQ is the highest it's ever been," Stanley said, "especially with some of the new things that we have done in this offense. It's been really good and I think I've utilized it."
A 6-5, 225-pound junior who transferred to KU this past winter from Mesa Community College (Ariz.), MacVittie said he tries not to focus too much on how Stanley is doing in the competition. Mostly, MacVittie said, both of the leading candidates, as well as the other QBs, push each other to improve.
"We get all of these new schemes and all of these new plays in and then we go out and practice them. If one guy does it wrong and then one guy does it right you've got to learn from the sideline if you're not in," MacVittie said. "You've got to be prepared. You've got to take reps through the other quarterbacks' eyes and you've got to learn from that."
Eventually, in theory, one of the quarterbacks will emerge as the answer to the question that has loomed since the battle began in the spring.
MacVittie said the QB that rises to the top of the depth chart will have to prove he can lead.
"I think that's the number one trait that's going to separate this competition," MacVittie predicted. "How you carry the team, how the team responds to you and how you're driving the football. You've got to score to win games, so it's all about that."
If you believe Koenning, Manny Miles, who was a reserve quarterback and holder at North Carolina previously, is part of the QB competition, too. Whether that's preseason subterfuge to add a layer of mystery to the QB conversation only Koenning knows for certain.
But Les Miles again referred to MacVittie and Stanley on Friday as the frontrunners.
The head coach said he's still waiting to see the quarterbacks become "a smidgen more consistent."
And even though Week 1 is quickly approaching, Miles isn't feeling a time crunch. In fact, KU's head coach said he prefers to wait until "the end" of preseason practices to name the man for the job.
"Somebody gets nicked," Miles gave as an example of a reason to prolong the wait, "and you've just announced all of your confidence in 'this is the guy, and let me pat him on the back one more time,' and suddenly he comes up a little lame and you're playing the guy that you did not give a vote of encouragement.
"So my opinion is these guys are real close. They both know that they're close. We'll let it play out."