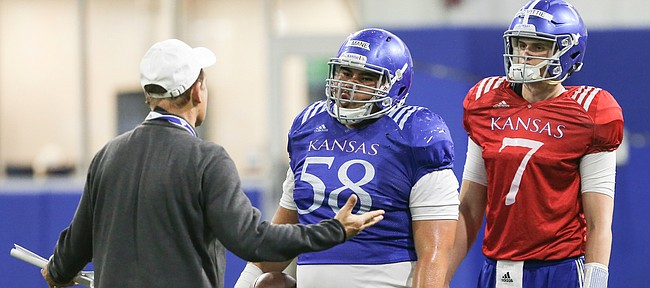 When the Kansas football team makes its debut under Les Miles in a couple of weeks, it looks like the Jayhawks are prepared to take an either/or approach when it comes to the starting center.
Whether it turns out to be redshirt junior Api Mane or senior Andru Tovi making the first snap of the season for the offense, Miles said Friday during his KU media day press conference he expects both will play in the Aug. 31 opener versus Indiana State.
"Our centers are going to be interchangeable parts with Api Mane and Andru Tovi," Miles said. "Those two guys will probably both play in our games interchangeably."
Miles didn't go as far as to predict a similar strategy at the other four spots on the offensive line. However, the idea of having exchangeable players up front was one he seemed to favor.
"The good news is Luke Meadows, the line coach, has a nice rotation. I haven't seen it as much before. But all of our guys are almost interchangeable parts," Miles shared, "and it's really given us a lift. I think we're really comfortable two deep, with some seniors certainly that are starting and playing."
At this point of the preseason, the left side of the line, with senior Hakeem Adeniji at tackle, and junior Malik Clark at guard, seems more locked in than the right side. But Miles mentioned junior Chris Hughes as the top right guard and seniors Clyde McCauley III and Kevin Feder at right tackle.
"That group should play at a very high level," Miles said of the O-line. "And I know that I have confidence in the coach who is coaching that position. I think our players look forward to coming to practice, and I think we'll have a nice offensive line."
Newcomers impressing
Miles used a portion of his opening comments during the press conference to highlight some true freshmen he thinks are standing out during August practices.
The rundown began at tight end, where Miles said Andale native Mason Fairchild will play "significant football for us."
The head coach said the "same" goes for defensive lineman Da'Jon Terry, a 6-4, 345-pound freshman from Meridian, Miss.
KU's head coach also commended Gavin Potter for making the best of a move from outside linebacker to inside, adding the Broken Arrow, Okla., native "has a real knack" for playing the spot.
The most heralded prospect in KU's 2019 signing class, outside linebacker Steen Parter, a four-star talent from Dallas, has provided "really, really excellent work" for the defense, according to the coach, too.
Miles wrapped his talk on freshmen by saying defensive lineman Marcus Harris, from Montgomery, Ala., is "playing a lot of football" during camp.
More QB chatter
While Miles stuck to his stance that Thomas MacVittie and Carter Stanley are the frontrunners for the starting quarterback job, he said a number of other QBs took some snaps at KU's most recent scrimmage.
"There's a Miles lad there that's competing," the head coach said of his son, Manny, a graduate transfer from North Carolina, who spent his time with the Tar Heels as a reserve and a holder.
True freshman Torry Locklin, sophomore walk-on Miles Fallin and redshirt sophomore Miles Kendrick, Les Miles added, all got some repetitions at QB for the offense during a Thursday scrimmage.
The head coach joked that a QB must have a Miles in his name or be 6-foot-2 or taller to play the position.
"We like Miles kids," Les Miles cracked of the three QBs whose names include his own last name.