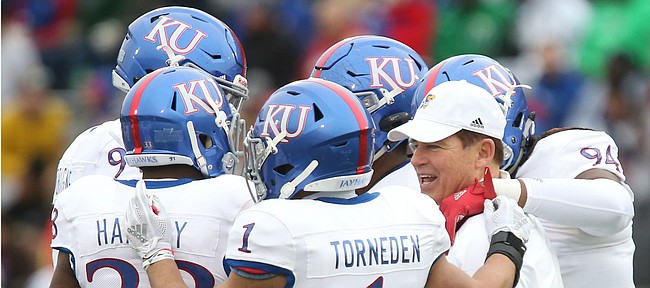 As soon as the spring game ended, Kansas safety Bryce Torneden rushed back to the locker room to take a shower.
He, along with the rest of his KU football teammates, eventually made it back inside David Booth Kansas Memorial Stadium. By then, a stage had been set up near midfield for Rick Ross. But, as so often is the case, it didn't take long for head coach Les Miles to steal the show.
Before the end of the concert, Miles joined Rick Ross up on stage and waved his arms up and down to the track "All I Do Is Win."
"Seeing Coach Miles be himself, that was cool," Torneden said. "He got the microphone and did his thing."
But that was also what made Monday's spring football wrap-up press conference so significant. For the first time since he joined KU in November, Miles appeared comfortable enough to get back to the old "Mad Hatter" ways that previously made him stand out on the college football landscape.
Miles' antics in his final press conference of the spring were reminiscent of many of his viral videos from his time at LSU. Miles gave one reporter a fist bump for asking four questions in the first 10-plus minutes of an 18-minute press conference. Miles teased another reporter for wearing a shirt that was purple — the color associated with KU rival Kansas State.
After his press conference was over, Miles playfully interrupted senior lineman Hakeem Adeniji during his breakout session. Miles warned Adeniji to not tell the media anything, a conversation he meant to have with him beforehand.
"Externally, it is Coach Miles and what he's done," Adeniji said on the buzz of the program. "Internally, I think Coach Miles has brought an attitude. He's brought this new energy and mindset to us."
All of Miles' behavior during Monday's press conference was a fitting sequel to his showing in the spring game.
There were multiple videos played on the jumbotron Saturday night featuring Miles, who has had done some acting in his career. At one point, Miles did a reenactment of a scene from "Step Brothers" along with Bill Self.
Regardless, the shenanigans during Saturday's spring game and his lighthearted moments Monday night were the latest examples of his growing comfort in Lawrence. And that means something, given his success at Oklahoma State and LSU.
The "Mad Hatter" is having fun again. For him, though, the real fun will be what the Jayhawks can accomplish in the fall.
"The most fun will be being able to say we put in the period of time so our team can be something special," Miles said. "That's the key piece, that lightens the mood everywhere."