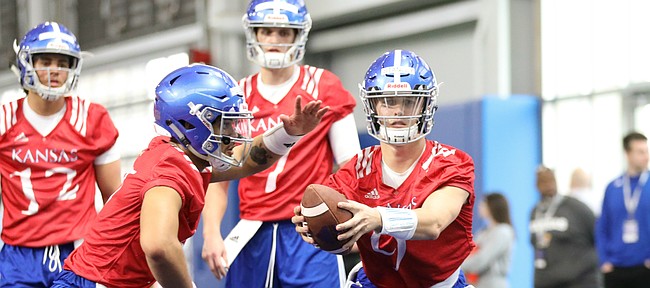 Heading into his fifth and final season with the University of Kansas football program, redshirt senior Carter Stanley has obtained a better understanding than most players on the team about all that has to go into mastering a playbook and then taking that process a step further and executing those plays on the field.
Stanley also happens to be the roster's foremost expert on quarterback competitions, having been involved with one at some point or another each of the previous three seasons.
So what better person to ask about the Jayhawks' current situation at QB, considering this is Round 4 for Stanley when it comes to vying for the most prominent starting job?
"I wouldn't say it's too different," Stanley reported this past week, in the midst of his ongoing spring battle with junior and program newcomer Thomas MacVittie. "For me personally, you've just got to do the same thing — come out every day and bring it. Work with the receivers, get the timing down with the receivers. I wouldn't say it's too different. My approach is pretty much the same as it always has been."
Both Stanley, a 6-foot-2, 198-pound senior from Vero Beach, Fla., who will graduate in May, and MacVittie, a 6-5, 215-pound redshirt junior from Cincinnati, Ohio, said this past week the reps at QB during KU's spring practices have been split up fairly evenly between the two of them.
Said Stanley: "We go out there and we alternate for the most part."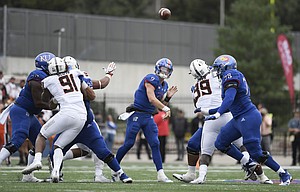 The only portion of the spring when Stanley felt a little behind was the last week of March, when he suffered a slight hamstring injury. That limited him in the team's second scrimmage, on March 31. Stanley said at the time he couldn't do much rolling out or fully execute on zone reads. But he said this past Thursday the hamstring is "a lot better" now.
First-year KU head coach Les Miles indicated he's in no rush to announce a starting QB, with the Aug. 31 season opener versus Indiana State still nearly five months away.
But barring some unforeseen development between now and the Jayhawks' 2019 debut, either MacVittie or Stanley figure to take the first snap of the Miles era at Kansas.
As Stanley has gotten to know MacVittie these past few months, and worked alongside him during meetings and at practices and scrimmages, the KU veteran has been impressed.
"He's a competitor," Stanley said of MacVittie, who played his 2018 season at Mesa Community College (Ariz.) "He brings it every day. Very fundamentally sound. He's got a big arm. He's fun to compete with."
According to MacVittie, who began his college football career at Pittsburgh, but never took an in-game snap for the Panthers, Stanley helped him get acclimated at KU when he joined the Jayhawks as a mid-year junior college transfer from MCC.
"He's definitely helped me, even in the weight room, too — first coming in we were only in the weight room," MacVittie said of when he arrived in Lawrence, in January. "His doors were always open to me. He was always helping me out. I'd ask him a question, there's no hard feelings, even with all the quarterbacks. We're all very comfortable with each other. There's no hard feelings anywhere. Everybody's getting equal opportunity, so the cards will lie where they land, and we'll see how this goes."
Stanley easily possesses the most FBS experience among KU's quarterbacks. Since redshirting during his first fall with the Jayhawks, in 2015, Stanley has appeared in 25 games and started nine.
For his career, Stanley has completed 228 of his 388 passes (58.8 percent) for 2,371 yards, with 13 touchdowns and 14 interceptions. In 2018, while making two starts and appearing as a reserve in five other games, Stanley went 34-for-47 (72.3 percent) through the air, throwing for 304 yards and three TDs, with one interception.
With all the change that went on within the program at the conclusion of this past season, with David Beaty being fired and Miles and his staff coming in to take over, some wondered whether Stanley would return or look into the possibility of transferring to finish his career elsewhere.
The program's veteran quarterback said, though, during his first interview since the program was overhauled that he was glad to stick around, even if meant going through yet another QB competition.
"I think I just owe it to this university, this state, just the people of KU," Stanley said of why he wanted to finish his career with the Jayhawks. "I love KU. I always have. I love my teammates, love these new coaches. And it became a pretty easy decision for me. Just passion for the school."