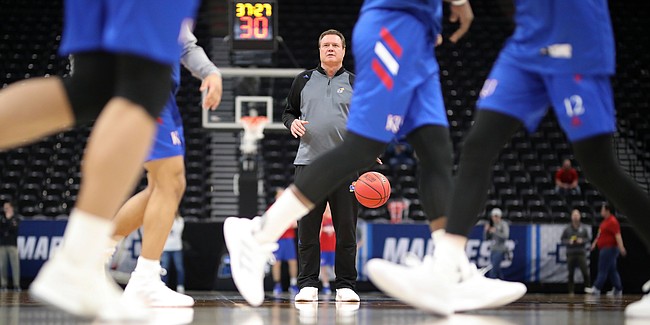 So John Calipari is now at Kentucky for life and the whole thing got me wondering if this kind of contract extension is going to become more popular in the coming years.
On the surface, keeping one of the game's best coaches and recruiters at a place like Kentucky for a long, long time seems like a good move and a no-brainer.
But was in necessary?
And if your answer to that question is yes then does that mean places like Duke, Kansas, North Carolina, Michigan State and Villanova are next?
They may be. But they don't have to be.
First of all, lifetime contracts like the one Calipari recently signed amount to little more than a public love letter that reads, "We love our coach and you can't have him."
Yeah, there's an agreement between Cal and UK for the current head Wildcat to either coach the program or serve as its ambassador for the rest of his life. But as we all know by now nearly all coaching contracts are full of out clauses — in both directions — and few, if any, can ever be considered iron clad.
The whole idea of a lifetime contract is not exactly new. Down the road at Kansas State, Bill Snyder basically operated with a lifetime contract for the better part of the last decade — Snyder's contract just kept rolling over year after year so he always had five years remaining — and you all saw how difficult that breakup was toward the end of last season.
It's hard to say it would have been easier for K-State to move on from Snyder if the program had just let his contract expire because, generally speaking, coaches in good standing who recruit for a living operate with at least three or four years on their existing contracts so as not to hurt their efforts on the recruiting trail.
But it sure looked like it would've been easier for the Wildcats if there were a more natural breaking point for the end of the Snyder era.
KU basketball coach Bill Self, whose current contract pays him roughly $5 million annually through the 2021-22 season, — for those who don't like math, that contract expires after three more seasons — has talked recently about wanting to coach at Kansas for a long time still.
And that declaration represents a change of heart from his previous stance from two years ago, when he told ESPN.com's Myron Medcalf that he didn't see himself coaching past age 60.
I asked Self recently to expand on the idea of extending his coaching life and why this season, of all seasons, helped him he realize that he wanted to be in it for the long haul, and it turns out his answer had a lot to do with the Jayhawks' 26-10 mark during the most recent season.
"I just want to make sure we're back to where we belong, at the top of the basketball world," the 56-year-old Self told the Journal-World. "That doesn't guarantee winning, but it sure guarantees you being in the game. This is the first year in 12 years or whatever that we haven't been in the game to go to the Final Four or win a national championship.
"This year, we just didn't put ourselves in position to be in the game and when I say the game, I'm talking about with a serious chance to cut down nets. (Missing out on that) hasn't happened very often here, and I'm motivated to make sure that we're back to where we should be, with that opportunity or possibility every March."
With Self desiring to stay at KU for several more years — he said there's nothing to the recent Chicago Bulls rumors that now have surfaced a couple of different places and emphasized that KU is the only job he's interested in — and his contract down to its final three, might now be a good time for Self to follow Calipari's lead and request similar treatment by Kansas?
Or, better yet, at least in Self's eyes, might now be the right time for KU to approach Self about the idea the way Kentucky approached Calipari?
Who knows what will happen? But no matter when or why Self says goodbye to Kansas, the athletic director in charge at that time sure will not be facing the most enviable task when he has to go replace him. For that reason, a lifetime contract today with the most successful coach in program history makes perfect sense.
But for the longterm health of the program or Self's own flexibility, it might not be the best idea.
Still, coaches often are as competitive with their contracts as they are on the sideline, so it'll be interesting to see if Calipari's move triggers a similar response at any of those schools mentioned above or for any other highly respected and adored coaches throughout college athletics.
More like this story on KUsports.com