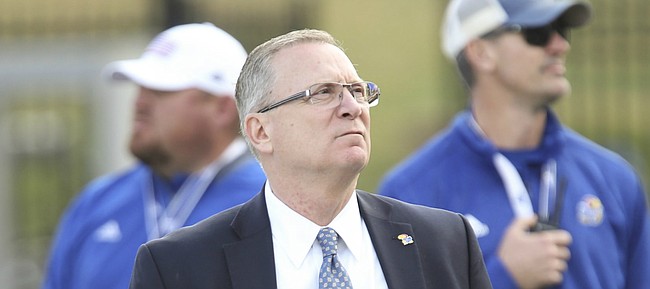 University of Kansas athletic director Jeff Long wasn't able to introduce the football program's next head coach Sunday night, hours after informing acting coach David Beaty he won't be retained for a fifth season.
But during a 30-minute press conference inside Hadl Auditorium in the Wangon Athlete Center, Long shed more light on the search at hand and how he will handle his first significant hire since becoming KU's AD a little more than three months ago.
If Long had a leading candidate in mind, he didn't reveal as much. But he indicated he was pleased with the direction in which the process is headed.
"Just in the last few hours, there have been a number who aggressively sought out to make sure I knew that they were interested, some of them I was thinking about before the announcement today," Long revealed. "But there really isn't a frontrunner. I'm going to be looking for a leader of young men, someone who has maybe a history and track record of building a program, because we have to build a program and it's really important to do that."
Photo Gallery
KU football vs. Iowa State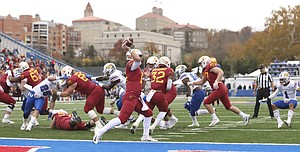 Photos from KU's 27-3 loss to Iowa State Saturday afternoon.
How quickly Long will land KU's next football coach remains to be seen, and the AD said there is no timetable for doing so because candidates interested in a head coaching job tend to dictate how that goes.
Still, Long would prefer to hire someone "sooner rather than later," and said it will be important to act "shortly after the season, if not before."
While Long said he will have "advisors" as he sifts through the best and most interested candidates, he clarified that a search committee won't be necessary.
"I think this decision rests with me," Long said. "I think the chancellor (Douglas Girod) has trusted me with this decision and I think that's one of the reasons that he hired me, and has expressed that belief in me to be able to do the job. Now, it doesn't mean I won't use people to advise me as I move forward. But it won't be a search firm as others have used in the past."
With Long in charge, it appears probable that KU's next head coach, unlike Beaty, will arrive with head coaching experience, because Long thinks that's what the program needs. While he couldn't rule out a scenario in which KU was unable to attract someone who fit that bill, he emphasized his hope to do so, instead of hiring an up-and-coming assistant or coordinator.
"These jobs are too big to learn on the job," Long said. "And I'd like to be able to attract someone who's been a head coach."
It doesn't appear that Long is looking to pluck one from the NFL ranks, either, though he wouldn't completely rule it out.
"I think it's very difficult to hire a coach from the NFL who doesn't have significant college coaching experience," Long said.
While the first-year Kansas AD described the fundraising for renovations to David Booth Kansas Memorial Stadium as being "on simmer" while efforts are focused to improve the football program's personnel, from assistants to analysts, he also delivered a plea for KU football fans to come support the team in the meantime.
"They're going to be part of the solution," Long said a day after an announced crowd of 15,543 watched Iowa State beat Kansas. "They need to come back and support this team for the Texas game (Nov. 23). I hope they come back and support these seniors who laid it on the line for them over the last four and five years."
As much as anything Sunday night, Long seemed intent on getting across his message to the program's followers that "change is on the horizon" with KU's next head coach.
"We are going to find a proven leader, a tenacious recruiter and a developer of young men on and off the field. As I have routinely said, we will break the cycle," Long asserted. "My expectation is that the football program should be a bowl-bound program on a regular basis. I believe, with the players currently in our program and the recruits who will commit in the coming months, we will be close to annual bowl berths and long-term competitiveness in the Big 12."