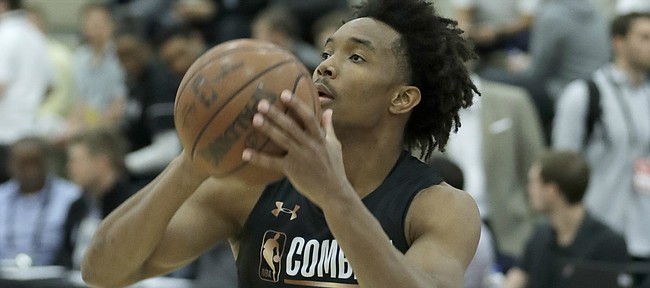 While Day 2 at the NBA combine in Chicago proved to be beneficial for all five Jayhawks in attendance, sharp-shooting guard Svi Mykhailiuk may have helped himself the most.
Mykhailiuk, who is participating at the pre-draft combine for the second year in a row, was one of the top performers in the five-on-five scrimmages that qualified as the most exciting part of the second day of this year's five-day showcase for 69 draft-eligible basketball players.
"Svi was terrific," KU assistant coach Norm Roberts told the Journal-World by telephone on Thursday night. "He made six threes in his scrimmage and he had a stretch in there where he hit three in a row in like a four-minute span. He definitely opened up some eyes."
Count ESPN draft expert Jonathan Givony, previously of mega-draft site DraftExpress.com, as one of those people. Givony, who has been covering both the prep for the combine and the first two days as thoroughly as anyone out there, Tweeted the following a short while after Mykhailiuk's scrimmage went final.
"Six threes for Kansas' Sviatoslav Mykhailiuk today," Givony began. "Showing some fight defensively as well. Negative two wingspan isn't ideal, but he's almost (6-foot-8) in shoes and has turned himself into a much tougher and more well-rounded player. Still only 20 years old."
Mykhailiuk, in just over 21 minutes on the floor during an 87-64 loss, finished with a game-high 20 points on 7-of-17 shooting, 6-of-9 from 3-point range.
This one day after Givony Tweeted out a video of the recent KU graduate draining 13 consecutive NBA-range 3-pointers during a shooting session at the University of Illinois Chicago on Wednesday night.
Last year, during a team workout with the Boston Celtics, Mykhailiuk set a Boston workout record by making 85 of 100 NBA 3-pointers.
As Roberts pointed out, everyone knew Mykhailiuk could shoot the ball. They knew it last year and his KU-record 115 3-pointers during the 2017-18 season only confirmed his elite skill.
What mattered most at the combine on Thursday was Mykhailiuk's ability to show that the other aspects of his game had improved from a year ago.
"What he did was he handled the ball," Roberts said of Mykhailiuk, who wore No. 66 and did not go with the signature T-Shirt under the jersey that he opted for at Kansas. "They really didn't have a true point guard on his team. So he was coming off ball screens, he made two really good passes and also showed he could come off a ball screen and make a 3. He came off a stagger and made a 3 and then he got two penetration-and-pitches to the corner. And that's how it is in the NBA.
"I saw him before the game and I talked to him after the game. He was excited. He said he didn't know how people would respond to him but he felt like he played pretty well."
Roberts, who was the lone KU representative to attend this year's combine per NBA rules, caught up with all five KU guys in Chicago in one way or another and said his role for them was purely one of support.
"This is their deal," Roberts said. "This is about them right now. But everything was great and I think the guys all did well today."
Only two of the other four Jayhawks in Chicago were able to scrimmage on Thursday.
Point guard Devonte' Graham and center Udoka Azubuike, who still has the option to return to KU for his junior season on the table, did battle in the opening game of the week, with Azubuike's squad knocking off Graham's group in a fast-paced and competitive game.
Azubuike, who wore No. 85, scored 14 points on 7-of-10 shooting — mostly dunks — and added six rebounds in 25 minutes.
Roberts said Azubuike met with three NBA teams on Thursday — the Houston Rockets, Boston Celtics and New Orleans Pelicans — and his wing span of 7 feet, 7 inches, was second among all players at the combine, behind only Texas freshman Mo Bamba's mark of 7-10.
"I think he was a little nervous in the beginning and he was a little bit better after that," Roberts said of Azubuike. "He did some good things out there. He was physical, scored in tight, which is what he's known for.
"I think he still has to be able to score some in traffic. I think that's what they're looking for from him, and they want to see him be more explosive. That's what I told him. 'Go enjoy the experience, get after it, go after every ball and do what you do.'"
That, in a nutshell, was Roberts' message for every KU player at the combine.
"That's what I tell those guys every time," he said. "Be who you are."
Graham, who played as the primary point guard on the team that lost to Azubuike's bunch, struggled to hit his outside shot in the scrimmage, but, according to Roberts, was solid in all of the other aspects of his game that made him an All-American last season, including leadership.
"He didn't make shots today but the NBA has to know over the course of the last three years that the guy can shoot the ball," Roberts said. "But what he did do was a great job of being a floor leader, getting people in the right position and making sure he gets the ball to the right guys in transition. That's who Devonte' is. He's a winner. He's going to compete every time out."
Though initially expected to be out there, Malik Newman and Billy Preston did not compete in scrimmages on Thursday. Roberts said he heard whispers of a thumb injury keeping Newman off the court. And he did not know why Preston did not play.
Both competed in drills and agility tests and had their measurements released.
The measurements for all five Jayhawks were:
Azubuike: 7-0 1/4 in shoes and 6-10 without shoes; 273.8 pounds and 7.95 percent body fat; 7-7 wingspan and 9-4 1/2 standing reach.

Graham: 6-1 1/2 in shoes and 6-0 1/4 without shoes; 186.4 pounds and 4.8 percent body fat; 6-6 1/4 wingspan and 8.0 standing reach.
Mykhailiuk: 6-7 3/4 in shoes and 6-6 1/2 without shoes; 211.6 pounds and 8.45 percent body fat; 6-7 3/4 wingspan and 8-4 stnading reach.
Newman: 6-3 1/4 in shoes, 6-2 1/2 without shoes; 189.2 pounds and 6.25 percent body fat; 6-5 1/2 wingspan and 8-2 1/2 standing reach.
Preston: 6-10 1/2 in shoes, 6-8 3/4 without shoes; 222.4 pounds and 5.45 percent body fat; 7-2 wingspan and 9-0 standing reach.