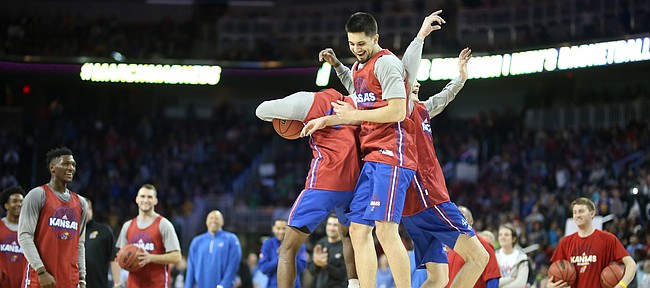 Wichita — After 132 games in 33 years, No. 1 seeds are undefeated against No. 16 seeds in the NCAA Tournament.
At 1 p.m. Thursday, Kansas (27-7) will look to make it 133-0, when they take on No. 16 seed Penn (24-8) at Intrust Bank Arena.
While the Jayhawks are double-digit favorites in Las Vegas, and the pick to advance on 99.9 percent of brackets across America, there has been more than a little buzz this week about the fact that the Quakers could be the latest 16 seed to really challenge a 1, adding intrigue to what, in years past, has been a rather uneventful game.
Photo Gallery
Kansas and Penn NCAA practices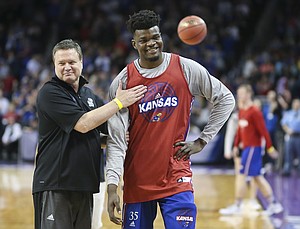 View a gallery of images from a day of NCAA practices and press conferences at Intrust Bank Arena in Wichita.
National pundits are calling Penn the best 16 seed ever. Others are walking right up to the line by saying things like, "I'm not saying I'm going to pick them, but..."
The Jayhawks have heard all of that. Some by choice and others by chance.
Regardless of where or how they stumbled upon such claims, the overwhelming vibe in the KU locker room was one that illustrated those statements, and others like them, don't matter a bit heading into the game.
"It's hard not to see it, with our fan base," said KU sophomore Malik Newman, perhaps referencing the insistence of KU fans on social media sites that the Jayhawks use such words as bulletin board material. "They're kind of upset with it. But I'm not taking anything away from these guys. 16 seed, 4 seed, 5 seed. We still have to go out and play like we're a 16 seed and we're trying to advance."
Close calls in the 1-16 matchup are not uncommon. Back in 2013, Kansas was even a part of one of them.
After trailing Western Kentucky by a point at the half, Ben McLemore's Jayhawks prevailed, 64-57, in a hard-fought, first-round game in Kansas City, Mo., before bowing out in the Sweet 16.
Podcast episode
Turner Sports analyst Steve Lavin, former head coach at UCLA and St. John's, joins KUsports.com's Matt Tait to talk about KU-Penn, the Jayhawks in general and KU's streak of 14 straight Big 12 titles.
Other than that, there have been seven other 1-16 games decided by single digits and three decided by a single possession.
The two closest calls came in 1989, when Georgetown held off Princeton, 50-49, and Oklahoma survived a scare from East Tennessee State, 72-71.
Purdue also won a one-possession thriller over Western Carolina in 1996 and Michigan State needed overtime to top Murray State, 75-71, in 1990.
Like KU coach, Bill Self, who has said multiple times this week that Penn looks better than a 16 seed to him, the Jayhawks spent much of this week focusing more on themselves than their opponent.
That's not to say they're ignoring Penn or even hiding from the talk about a 16 never beating a 1. But their focus is much more on finding a way to play like they did last weekend at the Big 12 tournament than on worrying about predictions, past tournaments and what might be.
"I know last year we were a 1 seed and people said the same thing," said KU point guard Devonte' Graham. "It's just something you've got to talk about and think about and you don't want it to become a reality. It's not really pressure, but we've got to come out and play how we've been playing and we should be fine."
While the concept of pressure might be something that could affect a team that's new to 1 seed territory. It barely even registers with the Jayhawks.
For one, they've been a 1 seed during each of the past three seasons and are 13-0 all time, with an average margin of victory of 25 points, in first-round games as a No. 1 seed.
For two, the Kansas players feel like they were built for games like these.
"We've been through pressure all season," Graham said. "With the 14 straight (conference titles), that was the most pressure I feel like any team could have been through. And us going through that, this shouldn't be pressure. We should feel free and bring it to the game."
Not surprisingly, the KU leader's assessment of where his team's mindset should be was a perfect summary of Self's hopes, as well.
"This should be a celebration and a reward of a job well done throughout the season for everybody that's playing in it," Self said. "Even though there's pressure to win and advance, you can't let that pressure take away from the joy and the passion that you have playing. Every kid that grows up playing this game, they dream of playing in this game and in this tournament. So there shouldn't be any what-ifs. Guys should let it go. And the teams that do let it go and can play with a free mind are usually the teams that do the best this time of year."
---
---
---
---
---
---