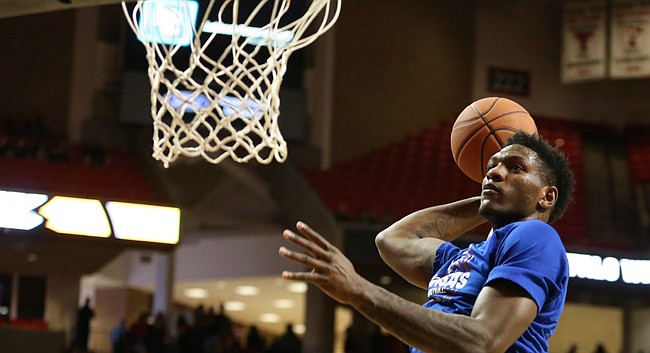 Kansas City, Mo. — The corrections aimed at freshman forward Silvio De Sousa, delivered with more encouragement than volume, came swiftly and never subsided during Kansas' open practice late Wednesday afternoon in Sprint Center.
"Come on, Silvio, wake up," 15th-year Kansas coach Bill Self told De Sousa at one point. "Set the screen and go!"
De Sousa will have more freedom to go, go, go this weekend than at any point of a KU career that started in January.
De Sousa started this season playing high school basketball, for IMG Academy in Florida, and will play in front of 19,000 spectators this afternoon.
With Udoka Azubuike sidelined by a sprained medial collateral ligament for the Big 12 tournament, De Sousa moves from third to second on KU's depth chart at center.
So it's not a case of whether he will play, rather, how soon. Best guess: As soon as backup-turned-starter Mitch Lightfoot is whistled for his first foul.
The days of check in, make three quick mistakes, check back out 65 seconds later, are over for De Sousa. Self doesn't have that luxury now, and the coach thinks that could benefit the talented, yet raw De Sousa, a 6-foot-9, 245-pound native of Luanda, Angola.
Self said he's not worried about De Sousa trying to do too much.
"I think if you have Dok and you have some other guys, you actually may, fear's not the right word, but you may have kind of concern that a guy could get in there and disrupt what everybody else is doing," Self said. "Not now. We need Silvio to be one of our best players. It's not like, 'Hey, play to not screw up.' It's, 'You need to play to win.'"
De Sousa figures to make more mistakes than Lightfoot, but he also stands to make more plays, because he's bigger, more athletic, a better rebounder and interior scorer.
Other than James Sosinski, a walk-on for both the football and basketball teams who has played just six minutes, De Sousa leads the Jayhawks in points (19.2) and rebounds (13.8) per 40 minutes. De Sousa also leads the team with 5.4 turnovers and 10.9 personal fouls per 40 minutes.
Self will let him play through more mistakes in the Big 12 tournament.
"When you know you're only going to play two to three to four minutes, you've got a short leash and everything, your mindset's a little different than when you say, 'Hey, we're going to ride him no matter what.' And that's the mindset I think everybody needs to have," Self said.
For Kansas, this represents a rare opportunity to play the underdog, most memorably portrayed by an anthropomorphic dog in the title role of the canine superhero cartoon series "Underdog." Voiced by late great Wally Cox, the main character was ever the underdog himself, always posing as a nebbish in oh-so-chic Hollywood. "Underdog" ran from 1964-1973, so it might miss the mark as an inspirational pregame video for the KU players. Nonetheless, nobody likes playing an underdog more than athletes in a blue-blood program. The Jayhawks had a little taste of it this season when they weren't the unanimous choice to win the Big 12, just the most common pick.
But thinking of the Jayhawks as underdogs was a stretch until Azubuike hit the floor with a knee injury. Now, it's legitimate. They couldn't beat Oklahoma State twice with a healthy Udoka, so how can they be favored to eliminate the Cowboys without him?
De Sousa has played just 52 minutes, so nobody can say with much certainty how he'll respond to the more vital role.
"We may find a diamond in the rough this weekend," Self said. "Who knows?"
The "who knows?" question applies just as easily to the question of when Azubuike will return. He won't be 100 percent when he does.
Udoka's situation makes it more important for Kansas to win as many games as possible in the Big 12 tournament, because advancing means more game time against highly motivated opponents for De Sousa. The more experience he attains, the better chance there is that he can develop into a player who can help Kansas this season, even if all nine scholarship players are healthy enough to play.