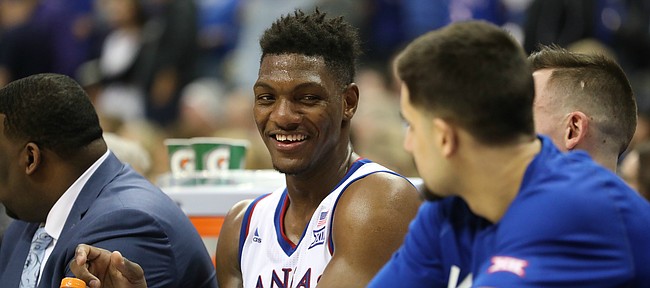 Kansas City, Mo. — The challenge for the Kansas basketball emergency tandem at center: Find a way to prevent the other team's garbage men from exploiting Udoka Azubuike's absence by becoming stars for a day.
Mitch Lightfoot and Silvio De Sousa pulled that off admirably during Thursday's 82-68 quarterfinal victory against Oklahoma State in a Big 12 tournament quarterfinal played in front of 17,903 in Sprint Center.
They prevented the Cowboys' big men from winning the game so that Kansas guard Malik Newman's 30 points determined the outcome.
Photo Gallery
Kansas basketball v. Oklahoma State (Big 12 Tournament)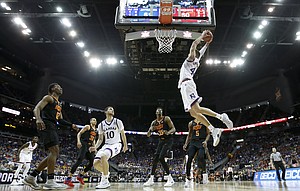 View a gallery of images from the Jayhawks' quarterfinal matchup in the Big 12 Tournament against the Cowboys.
Lightfoot and De Sousa combined for 14 points, 14 rebounds and nine personal fouls in 38 minutes. They kept the Cowboys' center duo of Mitchell Solomon and Yankuba Sima (a combined 21 points, seven rebounds and three fouls) from throwing a party with the biggest man in the building unable to do anything about it, thanks to a Grade 1 medial-collateral ligament sprain.
Lightfoot and De Sousa didn't have the luxury to bend over at the waist and regain their breaths after Azubuike's practice injury, which amounted to a punch in the gut at a rough time to take one. They needed to get to work at figuring out how they would minimize the damage of the injury that occurred late in Tuesday's practice.
"Obviously, it sucks," Lightfoot said. "I think we all know that. It's pretty obvious, but next man up has always been our theory. This team's done a great job of taking adversity and using it for good and playing harder because of it."
Billy Preston's car, the sponsorship of which never could be explained adequately enough for him to play college basketball beyond the exhibition season, already had thinned the ranks up front.
A Kansas basketball superpower that typically has four or five capable big men for the moment is down to two, and one of them started the season playing high school basketball. Talented big men are so rare in high school that learning how to defend the way college players must — hedging ball screens, defending your man before the catch — is secondary to staying out of foul trouble.
De Sousa's lack of refinement shows defensively, but his college-ready physique, considerable athleticism and eagerness to hunt down missed shots make him KU's best rebounder.
De Sousa played 15 minutes Thursday and had six points, eight rebounds and just one turnover.
"I thought he played great," Lightfoot said of De Sousa. "Silvio's a freak athlete. He can get to rebounds that most people can't. I'm really excited for him to see it all click."
More than quickness, explosiveness and muscle make De Sousa a good rebounder.
"I love to jump," said De Sousa, a native of Angola who spent 3 1/2 years playing at IMG Academy in Florida. "Rebounding is something where I'm jumping all the time, so I love to rebound."
You can't rebound from the bench.
"It's always great when you get a lot of minutes," he said. "It just means the coach trusts you."
De Sousa checked into the game with 15:39 left in the first half and, after a bad foul, checked back out 47 seconds later. He was upset, but not with the coach.
"Early in the game I made a mistake like I used to in my very first games, make a simple mistake and come out of the game," De Sousa said. "Today I did the same thing when I just got in the game, I fouled, and he took me out. Then I just kept my head, told myself, 'Coach is right. He can't keep me on the floor when I'm making those types of mistakes, so he took me out,' and then he put me back in the game and I just started to do what he wants."
He chased every rebound and came away from the game determined to do a better job defending.
His biggest weakness at this point?
"Defense," he said. "My hedge defense, always I'm kind of late. … Right now when guys set ball screens I'm always a little late to hedge it. I'm going to work on it to try to get better."
He also wants to improve at what he does well already.
"I think I rebounded the ball a lot," De Sousa said. "I could have done a lot more. I could have gotten more 50-50 balls, and I'm focused on doing better tomorrow."
Lightfoot made some mistakes as well. He fouled out in 23 minutes and produced eight points and six rebounds. Two of his fouls came on illegal screens, another on a 3-point shooter, another after he wrapped his arms around an opponent in the high post.
It wasn't a tidy performance, but he played with a contagious energy and willed his way to a strong effort on the boards.
"We were beaten by this team twice and we weren't going to let it happen a third time," Lightfoot said. "We wanted it for our fans and we wanted it for each other. We just went out there and fought."
Kansas State will bring that mindset in the semifinal matchup that tips off at 6 p.m. Friday, but Lightfoot doesn't anticipate any regression in the Jayhawks' effort.
"I think they'll be pretty jacked up to play," he said of the Wildcats. "It's the Sunflower Showdown. Everyone in the state of Kansas is pretty excited for it. If you don't have energy to play in those kinds of games, I'm not sure you can get excited at all."