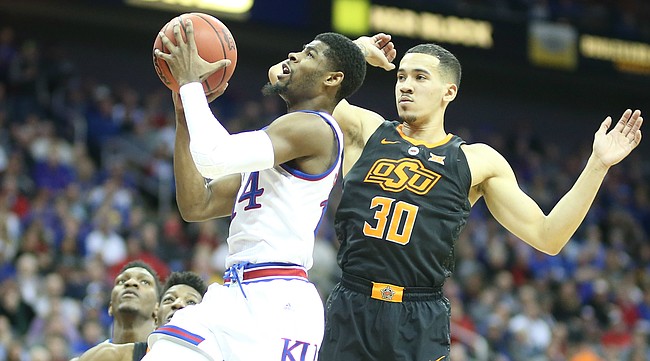 Kansas City, Mo. — The last time Kansas sophomore Malik Newman played a game like the one he dropped on Thursday, it came against a bunch of no-name Italians in a tiny gym on the other side of the Atlantic Ocean.
On Thursday, in front of nearly 18,000 people at Sprint Center, Newman poured in a career-high 30 points to lead No. 9 and top-seeded Kansas to an 82-68 victory over Oklahoma State.
According to Newman, his monster day was the result of one thing.
"Just being more aggressive," he said. "I just told myself that we can't lose."
So he made sure the Jayhawks didn't.
In two previous games against Oklahoma State, Newman combined to make eight shots on 18 attempts — including four of nine from 3-point range — and added two turnovers and one assist in an average of 31 minutes per game.
Photo Gallery
Kansas basketball v. Oklahoma State (Big 12 Tournament)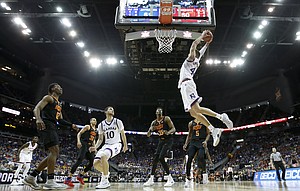 View a gallery of images from the Jayhawks' quarterfinal matchup in the Big 12 Tournament against the Cowboys.
On Thursday, Newman made 11 of 15 field goals, four of six from 3-point range and dished three assists to go along with zero turnovers in 36 minutes.
"I was kind of beating myself (up) and down on myself because I felt like the two times that we did play (OSU), I was a huge contributor to us losing by me not being locked in, not paying attention to the scouting report and things like that," Newman said. "Before we left (the team hotel on Thursday), I had a little talk with myself and I just told myself, 'Whatever you do, just make sure you (eliminate) as many mental mistakes as you can.'"
Newman did that from the jump, and the combination of added focus and increased energy produced the best game of his college career and one of KU's best individual games of the season.
"It makes everybody feel good when a player can get off like that," freshman Marcus Garrett said of Newman's huge night. "It means he's a big-time player. Knowing that was something that we needed, it shows what he has inside of him."
Added senior point guard Devonte' Graham, who set up three of Newman's 11 buckets, including the long touchdown pass late that led to an easy Newman lay-in and put the KU sophomore at 30 points for the night: "He was just aggressive and hungry. I saw him in warmups and he said he was feeling good and his shot looked good, and he came out in the game and had that same swagger."
Newman finished the first half with 20 points, including back-to-back 3-pointers around the 6:30 mark that first tied the game at 30-all and then gave KU a momentum-building lead.
Asked if Thursday's explosion reminded him of that 32-point outing in Milan back in August, Newman said simply, "Almost. Almost."
In that one, the KU sophomore exploded for 25 first-half points and finished 13 of 17 from the floor with six 3-pointers.
This one, however, clearly meant more to the now-seasoned Kansas Jayhawk.
"This is what it comes down to, the postseason," Newman said. "You always want to be great, and this is really the time to be great."
Always happy to question or critique his players even when things are going well, Kansas coach Bill Self had nothing but good things to say about Newman's role in the win.
"Malik got on a roll and basically carried us offensively," Self said. "Malik putting us on his back was huge."
The victory was validating for the Jayhawks in a number of ways, and after the game, a humble Newman was much more pleased by what his hot shooting night meant for his team instead of his own personal highlight reel.
"It felt good," Newman said, sitting in front of his locker after the first postseason victory of his college career. "If it was 15, as long as we got the W, that's all that matters in the postseason."
But the win meant more than that.
For starters, it proved to the suddenly vulnerable Jayhawks (25-7) that they could win a game without the massive presence of Udoka Azubuike inside. Sitting out after suffering a sprained MCL during Tuesday's practice, Azubuike has been ruled out for the Big 12 tournament but is expected to return to action next week.
In his absence, Mitch Lightfoot, who started, and Silvio De Sousa combined for 14 points and 14 rebounds in 38 combined minutes.
Even walk-on James Sosinski logged 85 seconds of playing time, as the football tight end helped KU survive the final 1:25 of the first half without risking another foul by Lightfoot or De Sousa.
"I think we just had to regroup and play a little bit different," said KU senior Svi Mykhailiuk. "Sometimes it's just everybody getting closer and trying a little harder. Every time we come on the court, we think we're going to win, and today was kind of special because now we know we can win without (Azubuike)."
Podcast episode
Kansas coach Bill Self, sophomore guard Malik Newman and senior guard Svi Mykhailiuk discuss the Jayhawks' 82-68 win over Oklahoma State at the Big 12 tournament.
In addition to that confidence boost, the Jayhawks avoided the ugly fate of losing to the same team three times in a single season. Their last time doing so was against an Oklahoma State squad in 1983 that featured a young guard named Bill Self.
Graham, who finished with 10 points, nine assists and six turnovers in 39 minutes, said he caught wind of that on Twitter earlier this week but added that he does not pay attention to that kind of stuff.
Added Mykhailiuk of Kansas avenging its two regular season losses to the 19-14 Cowboys: "It would've been really embarrassing if they beat us again, so we couldn't let it happen."
So Newman didn't.
After watching eighth-seeded Oklahoma State race out of the gates to the tune of 62.5 percent shooting and a 24-14 lead that forced Self to call a pair of timeouts in a span of 96 seconds, Newman answered OSU's most recent onslaught with 10 points in the final 10:31 of the first half — to match the 10 consecutive Kansas points he scored in the game's opening minutes — to help Kansas take a one-point lead into the half.
The 43-42 lead, which came thanks to an offensive rebound and putback by Mykhailiuk with one second remaining, was a far cry from the 46-33 and 46-30 deficits KU faced during the first two meetings with Oklahoma State.
"You do think that," Graham said when asked if the Jayhawks had thoughts of, "Not again," when they fell behind by 10. "But in the huddle, all we talked about was one possession at a time and getting stops. … Being down 13 at half and up one, it's a huge difference."
Kansas opened the second half with a baseline dunk from Lagerald Vick (11 points and five rebounds in 35 minutes) and never trailed in the final 20 minutes.
A big reason for that was the eight-minute stretch, from 14:58 to 7:03, in which the Cowboys failed to score a single point. Kansas built a 61-50 lead during that period of stagnation for OSU and later pushed it to 66-50 with 8:09 to play.
By the time the Cowboys did score again, it was too late for any kind of comeback. After topping 50 percent from the floor and 40 percent from 3-point range in two victories over Kansas during the regular season, OSU, which entered Thursday ranked 223rd in the nation in field goal percentage, shot just 40.9 percent overall and 22.7 percent from 3-point range. Those numbers included second-half totals of 31 percent overall and 0 of 10 from 3-point range.
"Their shots started falling short and they weren't going to the offensive glass like they usually did," Graham said of the Cowboys, who knocked off Oklahoma on Wednesday night. "You could tell they were more tired."
The win moves Kansas into Friday's semifinals — 6 p.m. on ESPN against No. 4 seed Kansas State — and, at least temporarily, puts the Jayhawks back on track.
Kansas swept the regular season series with Kansas State and takes a lot of confidence into its third meeting, looking to do something to K-State the Cowboys could not do to Kansas.
As for what Newman's focus will be heading into his encore performance against the Wildcats, that was simple.
"Just be better than yesterday," he said. "That's all I can think of."