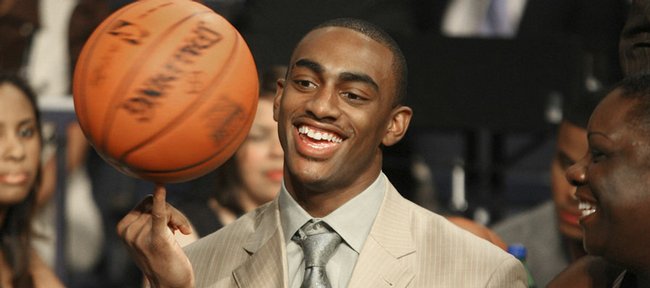 Even 10 years later, looking at who should have gone where in the 2008 NBA draft has a subjective element to it.
Still, in order to look at it, it helps to find an objective measure that best tells the story of a player's career.
Obviously, rebounds would not be a fair measure, because big men are asked to get more of those than perimeter players, just as guards will get more assists.
Points isn't bad, but again, scoring is what some players do best and others are counted on for defense and either rebounding or playmaking.
So I have chosen minutes played as the best objective measure of a player's value to a team. A coach tends to keep on the floor the longest the guys who will win him the game and save his job.
With that in mind, let's take a look back at the 60 players taken in the 2008 NBA draft in the wake of the University of Kansas' third NCAA tournament title and rank them in order of career finish.
KU's Darrell "Slim Shady" Arthur, who totaled 20 points and 10 rebounds in the overtime national-title victory against Memphis, became the top news item in that draft. Projected to go in the lottery, Arthur slipped all the way to 27th.
"If you remember that day, there was a rumor that was spread that he had potential kidney issues," Kansas coach Bill Self said, looking back 10 years. "The draft is going on and I had teams calling me, 'Bill, what is going on? Why is he falling?' Apparently, there was a test out there that when he tested something, something showed up because of medicine he was taking or something like that, and it was a potential red flag. Here's a top 15 pick that fell to 27. So that was bad for Shady, but he weathered the storm and is still in the league."
He seemed like far too talented a prospect to drop that far, but in truth, his career hasn't matched that of most lottery picks and he was drafted in about the right place. Among the 60 players selected that year, Arthur ranks 29th with 8,945 career minutes.
Three players chosen ahead of him in the draft played fewer NBA minutes: No. 8 pick Joe Alexander (West Virginia), 745 minutes; No. 14 Anthony Randolph (LSU), 3,841; No. 20 Alex Ajinca (international pick), 3,905.
Three players chosen behind Arthur have played more NBA minutes: No. 35 DeAndre Jordan (Texas A&M), 21,045; No. 45 Goran Gragic (international), 20,245; No. 34 Mario Chalmers (KU), 17,245; No. 37 Luc Mbah a Moute (UCLA), 15,592; No. 36 Omer Asik (international), 9,216.
Other KU players drafted that year included Brandon Rush at No. 13 (ranks 26th with 10,564 minutes), Darnell Jackson at No. 52 (40th with 1,039 minutes) and Sasha Kaun (48th with 95 minutes).
Chalmers has played more NBA minutes than any of the top three picks: Derrick Rose (11th with 16,712), Michael Beasley (20th with 13,626) and O.J. Mayo (13th with 16,919).
The five leaders in NBA minutes among players from the 2007-08 draft: No. 4 pick Russell Westbrook (25,720); No. 25 Nicolas Batum (21,874); No. 22 Courtney Lee (21,165); No. 35 DeAndre Jordan (21,045) and No. 5 Kevin Love (20,425).
Busts and steals are part of every draft. Trying to predict which players fall into which categories makes the NBA draft well worth watching.