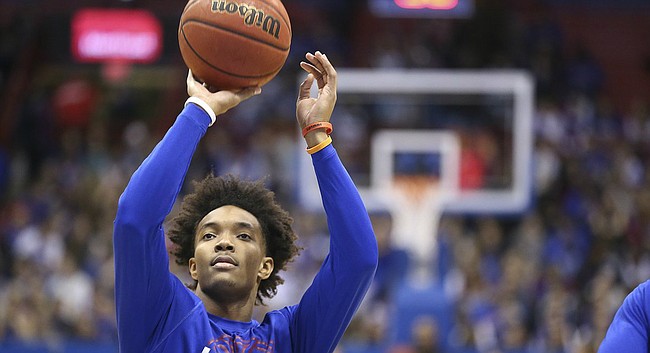 Kansas basketball coach Bill Self, who has spent his entire 33-year coaching career in college basketball, has a phrase he uses for the way prospects view their chances at making it in the NBA when draft time rolls around.
"It's such an inexact science," said Self, explaining that each year, more than twice the number of players who are actually drafted go into draft day believing they have a spot locked up.
"The one thing about the NBA draft, and probably NFL draft, and baseball draft, too, is there's 90 guys out there that are guaranteed to go in the first round," Self said elaborating on the theory. "And then, there's another 60 that are guaranteed going to go in the second round. So there's 150 players that are guaranteed going to get drafted (Thursday), and there's only 60 spots."
Four of those draft hopefuls are former Jayhawks, and Self enters tonight's draft — 6 p.m. at Barclays Center in Brooklyn, N.Y., on ESPN — hopeful that all four players will hear their names called.
Departing seniors Devonte' Graham and Svi Mykhailiuk did the most individual workouts for NBA teams in the past couple of weeks and those two, along with early entries Malik Newman and Billy Preston, attended the pre-draft combine in Chicago in mid-May.
Throughout the entire process, Self said he received positive feedback on all four players and he believes each of them should be excited about what lies ahead tonight.
Most mock drafts have Graham, Mykhailiuk and Newman firmly planted as second-round picks. And a couple of those pre-draft predictions have Preston, who never played an official game for the Jayhawks, as a second-round selection, as well.
When asked about the chances of three of the four members from his Final Four backcourt, Self said he felt "confident that those three will go."
"Billy, I really haven't heard as much on Billy other than the fact that everybody is very optimistic about his talent," Self said. "But I still haven't got anyone to tell me exactly where they think he would fall. But everybody's told me first-round talent for sure when I've talked to them."
People in Preston's camp are confident that his size, skill set and raw ability will be enough to entice a team to take a chance on him, despite him never actually playing college basketball.
And Self has heard enough positive feedback from his NBA connections to think that the KU guards should be prepared for a special night, as well.
"All our guys are very optimistic," Self said. "If you ask all players what they're hearing, every one of them is going to tell you the very best possible scenario, which could be a one out of 20 chance to probably where we are. But I'll say this; I've talked to a lot of NBA teams and every one of them has told me that Svi and Malik and Devonte', if things fell perfect for them individually, all could be late first-rounders. The reality is, probably not. But they could be. So I'm very optimistic that they'll all get drafted and hopefully go as high as they possibly can."
The reason Self chooses to describe the entire endeavor as an "inexact science" comes both from the lopsided number of draft hopefuls and draft spots, along with the fact that things can change so quickly on draft night that a player who appeared to have a perfect path entering the night could see it derailed by one or two surprise moves.
"It could be totally thrown off if just one guy they think is going before you doesn't go," Self said. "Or if a team that you think is going to draft big takes a point guard instead, and all of a sudden, your guard is eliminated with that team because that's not a need anymore."
The mere fact that Self is discussing such scenarios represents a bit of a departure from the norm. Throughout his time at Kansas, Self has produced 11 lottery picks, including a stretch of eight in a five-year span from 2010-14.
In all, 22 Jayhawks who played under Self have been drafted in the past 14 years, and the veteran KU coach said this week that each entered draft night in a unique situation and that a few of his former players who weren't drafted wound up in a better position than some of those who did.
"I've always been told if you're going to go late second, you're better off not getting drafted, because then you can pick what place you go to that may have an opening," he said. "If you get picked 60th or 57th, you're locked into that deal and they may already have 14 guys on guaranteed contracts. So much of it is getting drafted by the right team or being a free agent in the right camp."
It's not just Self who will be locked in on tonight's draft broadcast. Several current Jayhawks who went to battle with KU's draft-eligible foursome for the past year or two also will be watching, eagerly waiting to hear their friends' names called.
"It's just so humbling because, you know, I was just practicing with Devonte' and Svi and all those guys and they're there now," junior guard Sam Cunliffe recently told the Journal-World. "And it really makes you realize you want to get there, too."
Added sophomore transfer K.J. Lawson: "We'll definitely be watching and I hope all of those guys' dreams come true. … We know they're all going to play hard because they come from Kansas, so it's just instilled in them."
KANSAS NBA DRAFT HISTORY
Year - Name (Round/Overall Selection)
1948 - Otto Schnellbacher (Providence region)
1952 - Clyde Lovellette (1/10)
1953 - Dean Kelley (8/56), Gil Reich (11/32)
1954 - B.H. Born (3/22), Alan Kelley (7/56)
1957 - Maurice King (6/48)
1958 - Wilt Chamberlain (Territorial selection)
1959 - Ron Loneski (10/134)
1961 - Wayne Hightower (1/5), Bill Bridges (3/32)
1963 - Nolen Ellison (4/29)
1966 - Walt Wesley (1/6), Al Lopes (13/106)
1967 - Ron Franz (4/33)
1968 - Roger Bohnenstiel (9/120)
1969 - Jo Jo White (1/9), Dave Nash (4/48), Bruce Sloan (11/153)
1971 - Dave Robisch (3/44), Roger Brown (4/64), Pierre Russell (13/207)
1972 - Bud Stallworth (1/7)
1975 - Rick Suttle (7/110), Roger Morningstar (8/144)
1976 - Norm Cook (1/16)
1977 - Herb Nobles (6/124)
1978 - Ken Koenigs (5/99), John Douglas (6/118)
1979 - Paul Mokeski (2/42),
1981 - Darnell Valentine (1/16), Art Housey (3/47), John Crawford (7/160), Randolph Carroll (10/220)
1982 - Tony Guy (2/46), David Magley (2/28)
1984 - Carl Henry (4/80), Brian Martin (9/185)
1986 - Greg Drieling (2/26), Ron Kellogg (2/42), Calvin Thompson (4/71)
1988 - Danny Manning (1/1), Archie Marshall (3/75)
1990 - Kevin Pritchard (2/34)
1991 - Mark Randall (1/26)
1993 - Rex Walters (1/16), Adonis Jordan (2/42)
1994 - Darrin Hancock (2/38)
1995 - Greg Ostertag (1/28)
1997 - Scot Pollard (1/19), Jacque Vaughn (1/27)
1998 - Raef LaFrentz (1/3), Paul Pierce (1/10)
1999 - Ryan Robertson (2/45)
2001 - Eric Chenowith (2/42)
2002 - Drew Gooden (1/4)
2003 - Kirk Hinrich (1/7), Nick Collison (1/12)
2005 - Wayne Simien (1/29)
2007 - Julian Wright (1/13)
2008 - Brandon Rush (1/13), Darrell Arthur (1/27), Mario Chalmers (2/34), Darnell Jackson (2/52), Sasha Kaun (2/56)
2010 - Xavier Henry (1/12), Cole Aldrich (1/11)
2011 - Marcus Morris (1/13), Markieff Morris (1/14), Josh Selby (2/49)
2012 - Thomas Robinson (1/5), Tyshawn Taylor (2/41)
2013 - Ben McLemore (1/7), Jeff Withey (2/39)
2014 - Andrew Wiggins (1/1), Joel Embiid (1/3)
2015 - Kelly Oubre Jr. (1/15)
2016 - Cheick Diallo (2/33)
2017 - Josh Jackson (1/4), Frank Mason III (2/34)