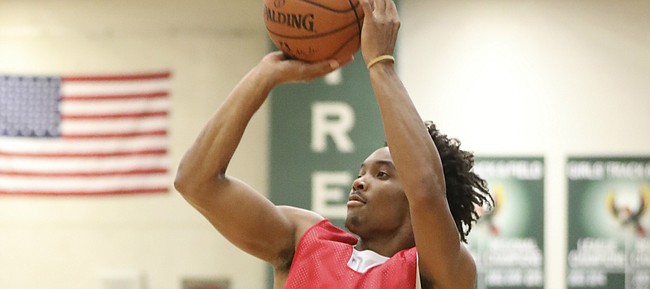 With one of the biggest days in his basketball existence coming up next week, no one would have blamed Devonte' Graham if the aspiring NBA point guard had spent this week focusing on his future.
However, when asked to participate in the 10th annual Rock Chalk Roundball Classic, a charity fundraiser for families with children who are battling cancer, the recent University of Kansas graduate and busy pro prospect saw no reason to decline.
"I had two, three days off," said Graham, smiling as usual, after his Team Crimson defeated Team Blue, 128-109, at Free State High.
Photo Gallery
Rock Chalk Roundball Classic scrimmage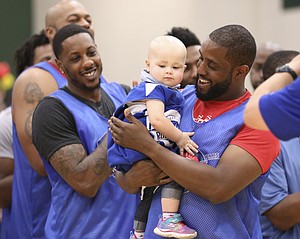 Current and former members of the KU men's basketball team participate in a scrimmage during the Rock Chalk Roundball Classic on Thursday, June 14, 2018 at Free State High School.
A likely second-round pick in the June 21 NBA Draft, Graham, though as physically fit as anyone participating in the charity game organized by KU play-by-play announcer Brian Hanni, took a backseat to high-flying Ben McLemore, who kept the packed gymnasium of Jayhawks fans engaged with 52 points and an array of dunks and 3-pointers.
The most recent KU star in the building, Graham quietly scored eight points, while not worrying for a second about suffering some sort of injury in the midst of a busy schedule that has him criss-crossing the country to work out for various NBA teams.
"Nah. We're not going hard like that," Graham said of the laid back, fan-friendly exhibition.
Just as he would have as an undergraduate at KU, when he delighted in interacting with kids at basketball camps or Special Olympics clinics, Graham did his best to make everyone involved feel appreciated.
"This game here, you get to do a lot with the fans. It's interactive. Me personally, I'm a people person. I love the kids," Graham said. "Just trying to put a smile on their face, whatever it is we're doing."
The 23-year-old point guard from Raleigh, N.C., left the exhibition pleased he took some downtime to create what he hopes will be meaningful moments for some children and families enduring some challenging times.
"We're in a situation that people idolize us and we're just supposed to give back," Graham said.
Prior to tip-off, the children for whom the event is raising money were introduced as the Rock Chalk Roundball Classic's third starting five of sorts: 4-year-old Alex Alvarez, of Topeka; 11-year-old Lauren Harrison, of Olathe; 4-year-old Willow Rose Manuel, of Sedalia, Mo.; 17-month-old Shyann Harris-Edwards, of Topeka; and eight-month-old Grit Henderson, of Lawrence.
Grit and his mother, Laura, had been in Memphis for Grit's treatments, so his father, Nolan, an assistant football coach at FSHS, was introduced instead. Then came a surprise. Unbeknownst to Nolan, Grit and Laura came back to town for the charity game. The family embraced on the court as former KU players and fans applauded and fought back tears.
"It's a big moment for them," said former KU center Jeff Withey, of all the children being honored and assisted. "They've been fighting for so long and the parents have."
While the pre-game moment stole the show, McLemore provided a worthy follow-up.
"I had 52?" he asked in disbelief after being informed of his scoring total.
The 25-year-old Memphis Grizzlies guard said he always enjoys helping out with the annual charity game.
"Kansas is home to me. I just love coming back, entertaining the fans, my teammates, the coaches, everybody in Lawrence and Kansas," McLemore said. "It always gives me a thrill to go out and perform like this."
Keith Langford led Team Blue with 32 points, while 2008 national champions Mario Chalmers scored 29.
According to Hanni, this weekend's various events tied to the game are hoped to raise approximately $100,000.
Crimson - 128
Drew Gooden 19, Jeff Withey 7, Elijah Johnson 18, Ben McLemore 52, Travis Releford 2, Conner Teahan 5, Sherron Collins 12, Devonte' Graham 8, kid from the stands 5.
Blue - 109
Keith Langford 32, Tyrel Reed 16, Mario Chalmers 29, Jamari Traylor 6, Jeff Graves 3, Jeff Hawkins 5, Nick Bradford 9, Clay Young 4, Rex Walters 5.