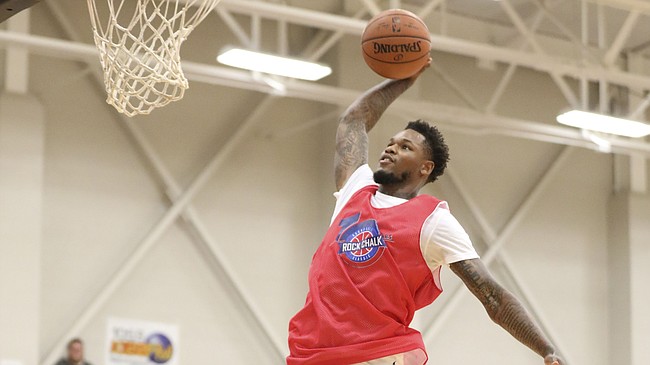 That time of year arrived again Thursday night, that time when Ben McLemore dominates the Rock Chalk Roundball Classic and leaves everyone in the packed gymnasium at Free State High wondering the same thing to themselves as they either line up for autographs or head outside for fresh air.
Might McLemore still figure it out and blossom into an 18-point-a-game scorer? Might the consensus second-team All-American fulfill the promise he showed that led the Sacarmento Kings to use the seventh overall pick of the 2013 draft on him?
Photo Gallery
Rock Chalk Roundball Classic scrimmage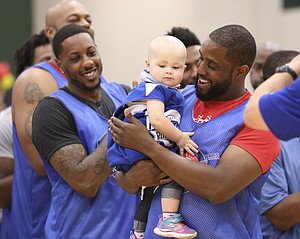 Current and former members of the KU men's basketball team participate in a scrimmage during the Rock Chalk Roundball Classic on Thursday, June 14, 2018 at Free State High School.
Five seasons into his NBA career, McLemore has averaged in double figures in scoring just once, his second of four seasons with the Kings.
This past season he averaged 7.5 points and 19.5 minutes a game in his first season as a member of the Memphis Grizzlies. He shot .346 from 3-point range.
He shot much better than that Thursday in the game that raises money to battle pediatric cancer, a great cause for which event organizer Brian Hanni and the athletes who participate as players, coaches and autograph signers deserve kudos.
McLemore ignited the crowd by getting and staying hot from beyond the 3-point semicircle and especially with his creative, breath-taking dunks.
His final one bent both the rules and the minds of spectators. He threw the basketball hard off the wall, making it bounce high above the rim, where he quickly soared to redirect it into hoop for the game's final bucket, giving his Red squad a 128-109 victory over the Blue.
A 6-foot-5 native of St. Louis, McLemore said he didn't come into the night thinking he would execute the trick shot, which he called his favorite dunk of the night.
"Mario Chalmers told me to throw it off the wall," McLemore said.
McLemore, 25, averaged 15.9 points per game in his lone season at Kansas and shot 3-pointers with a 42-percent accuracy rate.
He said he believes his best NBA years are ahead of him and when asked if he thought he could improve enough to one day play in an All-Star Game, he didn't hesitate.
"Absolutely," said McLemore, who has participated in the Roundball Classic in all five offseasons since leaving Kansas. "I've still got time. I'm young."
Brandon Rush, who served as an assistant coach for the Red team, also said he thought McLemore's best years are ahead of him.
"He needs to just find the perfect team for him," Rush said. "He was with Sacramento. They didn't really like him too much. Now he's with the Grizzlies. He didn't really get a chance to play his type of game. He just needs to go to where he can flat-out play."
Rush used an NBA veteran as an example of a comparable to McLemore.
"I could see him becoming like another Gerald Green, the way he scores, the way he shoots the ball," Rush said. "Gerald Green ended up in the perfect spot in Houston, where he can shoot, take all the shots he wants. That's the type of team Ben needs to go to."
Green, 32, has been with eight different NBA franchises, two of them twice. He averaged 12.1 points this past season for the Rockets, his highest output since the 2013-14 season.
Even if McLemore doesn't reach his goal of becoming an All-Star, he'll continue to use the platform a Kansas basketball jersey and an NBA name give him to do good for others, the way he and the rest of the Jayhawks did Thursday night.
Regardless of whether he makes the improvements he aims for in his ball-handling and shooting, McLemore will have earned almost $24 million as an NBA player by the end of his sixth season, slightly more than $13 million in four seasons with the Kings, and $10.7 million from the Grizzlies, who signed him to a two-year contract before last season.