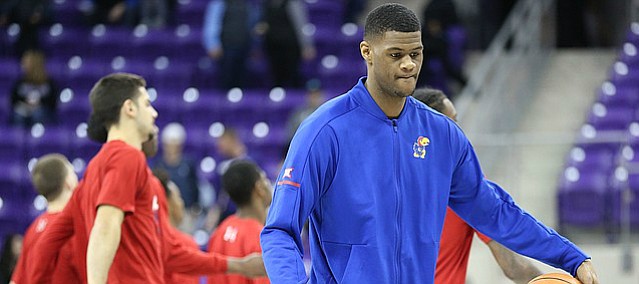 The saga surrounding the status and eligibility of Kansas freshman Billy Preston has reached its end.
And that end comes as bad news for the Jayhawks and a different kind of uncertainty for Preston.
After spending months trying to clear up his eligibility, Preston has signed a contract with BC Igokea of Bosnia and Herzegovina, which will end his Kansas career without the former McDonald's All-American and highly touted prospect having played a single regular-season game for the Jayhawks.
Igokea, which plays in the Adriatic League and Bosnian League, announced the signing early Saturday morning through a statement.
"We are thrilled to welcome Billy Preston to our Club," the statement began. "We watched him when he was in high school at Oak Hill Academy and in the McDonald's All Star game. We are honored to have such a tremendous talent in our organization."
Just before 10 a.m., KU coach Bill Self confirmed that Preston's time at KU was finished.
"Billy's family has been very upfront telling us that his first choice was to stay at Kansas, but with the uncertainty of the situation they needed to look at other potential options," Self said in a statement. "We are all disappointed that Billy never had the opportunity to experience college basketball competition but we certainly support him and wish him the best."
Preston, a 6-foot-10 freshman from Los Angeles who played high school basketball at Oak Hill Academy in Mouth of Wilson, Va., was suspended for KU's season opener for a violation of team rules, having missed both curfew and class the night before KU's game against Tennessee State.
He then missed the next 17 games, beginning with KU's win over Kentucky in November's Champions Classic in Chicago, as KU officials investigated the financial details of the car Preston was driving during a noninjury, single-car accident in early November.
Throughout the process, Self remained upbeat and optimistic that the situation would have a favorable outcome for both Preston and Kansas, but that tone changed slightly after KU's Jan. 14 victory over Kansas State, when Self said he did not see the need to call the NCAA "to keep asking every four hours, 'Is there anything?'"
Self said KU's investigation into the matter ended a few days before Christmas, which marked roughly six weeks since the issue surfaced. From there, KU's findings were turned over to the NCAA and Kansas waited for a ruling.
However, the NCAA did not rule on the situation over the next several weeks, in part because its offices were closed for the holidays and did not reopen until Jan. 2.
During this time, Preston's mother, Nicole Player, expressed increasing frustration regarding the delay.
In a series of tweets made on Jan. 3, Player said she could have elected to pull her son from KU and send him to play professionally in Europe but had not done so because she wanted him to be at Kansas.
Preston continued to practice with the Jayhawks the entire time he was held out of play and even was mixed into a handful of recent practices with the regular rotation, which led some fans to speculate that KU was planning to have him back this month.
That return never came.
At 10:42 a.m. Saturday, Preston shared his first comments about the situation via Twitter.
"We have fully cooperated with the NCAA and prepared to continue but it has been 67 days since this process began, and still no end in sight," he wrote. "Playing at the University of Kansas was a dream of mine but being a professional has always been my long-term goal. That day is finally here."
Player told ESPN's Jeff Borzello Saturday that Preston did not sign with an agent but plans to enter June's NBA Draft. Despite the tumultuous situation at Kansas, Preston remains a potential first-round pick.
— Check back to KUsports.com for more throughout the day as details become available.