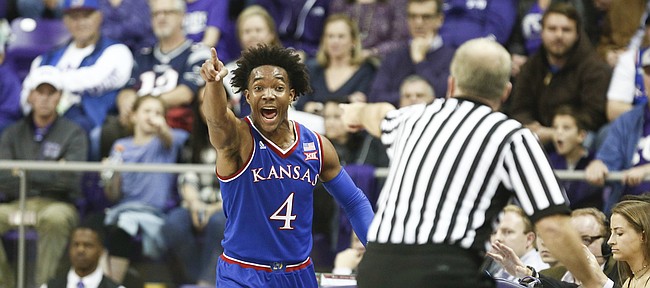 At the midway point of the Big 12 race, the Kansas men's basketball team has built a one-game lead over Oklahoma and Texas Tech in large part because of the Jayhawks' ability to play well and win on the road.
Kansas, which enters Saturday's home game with Oklahoma State at 18-4 overall, 7-2 in Big 12 play and ranked No. 7 in the country, is 4-1 in Big 12 road games and 3-1 at home.
But it's not just the record that differs.
In their five Big 12 road games to date, the Jayhawks are at +24 in scoring margin, winning by an average of 7.3 points per game.
In their four conference games at home, the scoring margin is -3 and the Jayhawks' average margin of victory is just 3.7.
With five home games remaining, including two in the next five days, the Jayhawks are currently striving to bring the way they conduct their business on the road to their home court.
"We do try to replicate them," KU coach Bill Self said on Thursday. "(But) we don't stay in hotels. We don't get up at whatever time, eat breakfast together, go to practice together on the bus, come back, eat meals together, watch tape together. Here, you have one meal a day together. Kids go to class, do whatever. It's just not quite the same as what it is when you play away from home."
And the goal the rest of the way is to make the two one and the same.
"We do like playing on the road because it's more of a challenge," said sophomore forward Mitch Lightfoot. "But we've got to have that at home. And that's on us. We've got to bring that energy and give the fans what they deserve at home."
While Lightfoot talked about the general "challenge" of playing on the road, sophomore guard Malik Newman went into greater detail.
"We know it's just us and the arena we're going into is not Allen Fieldhouse," said sophomore Malik Newman, before adding, "I think when we're at home the fans kind of spoil us a little bit."
"It's us against however many fans it holds and the players and the referees," Newman continued. "We just have to go in there with our backs against the wall, put our head down, trust in one another and go out and play. … We have a set of guys that like that pressure, like being on the road and I think we prefer to win on the road. I mean, we always prefer to win, but I think a road win is even better than a home win for us."
One of the more easily overlooked elements of this team's success on the road might be the fact that this was a team put together on the road.
Months ago, after Self's summer camps in June and the team's pick-up games throughout July, the Jayhawks traveled overseas to Italy for a four-game exhibition tour that proved to offer much more in the way of bonding and team building than it did on-court competition.
"Italy had a great impact on the way we're playing right now," said Newman of KU's 4-0 steamrolling of Italian competition last August. "But it had nothing to do with the games that were played. I think that's when we started bonding and everything's been good since then. … It was just us just being over there. We only knew us and we didn't have no choice but to bond, but to be with one another and I think that leads into today, with us trusting one another and wanting to be around each other because it's a family, a brotherhood."
Added Lightfoot: "I wouldn't say, 'Oh for sure Italy is where it started,' but it might've had something to do with it. That was the ultimate road game, thousands of miles away from home."