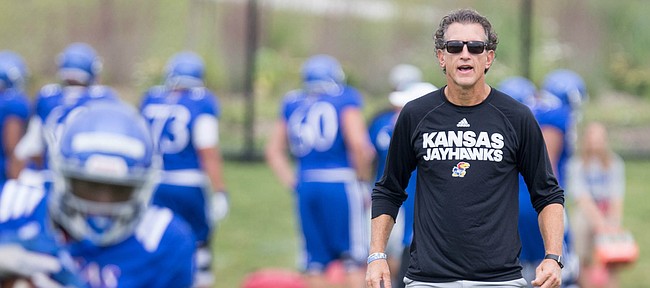 Kansas offensive coordinator and receivers coach Doug Meacham, who previously was co-offensive coordinator and coached inside receivers at TCU, has been named in a lawsuit by a former player who says he was harassed by TCU's coaching staff, according to a Fort Worth Star-Telegram report.
Kolby Listenbee, a former TCU football standout, filed the lawsuit in Dallas against the university and the Big 12 Conference, alleging Horned Frogs head coach Gary Patterson and other coaches "continuously pressured, humiliated and harassed" the receiver after an injury diagnosis in hopes of getting him back in the lineup more quickly.
The alleged abuse and harassment occurred during Listenbee's senior season in 2015.
Reached through a KU spokesperson, Meacham responded to the report Thursday evening: "I have no comment beyond the statement that TCU has released."
The account Meacham referenced from TCU read: "As a practice, Texas Christian University does not comment on the specifics of pending litigation. However, TCU takes tremendous pride in its long-standing tradition of excellence in providing a positive experience for its student-athletes, especially in the areas of care, prevention and rehabilitation of athletic injuries."
Listenbee was drafted in the sixth round of the 2016 NFL Draft after playing in 10 games at TCU as a senior, and catching 30 passes for 597 yards and five touchdowns. The Buffalo Bills released the receiver in 2017 without ever playing him in a game.
Listenbee alleges that after injuring the cartilage that holds the pelvic bones together during a touchdown reception against SMU in September of 2015, he was pressured to return to the field before fully recovered. Listenbee says he was diagnosed with pelvic instability, which "requires a minimum of six months of rest and rehabilitation," according to the lawsuit, which also claims the Big 12 failed to review TCU's compliance with the NCAA Rules and policies.