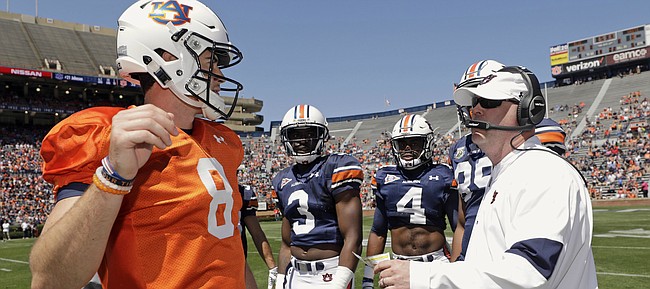 USA Today released on Wednesday its annual list of salaries for assistant college football coaches, and a name that's now familiar with the Kansas football fan base landed among the top 20 of the highest-paid in the FBS ranks.
According to the database, Chip Lindsey, before he was hired by Les Miles as the Jayhawks' new offensive coordinator Tuesday, made $1.1 million in 2018 as the OC and quarterbacks coach at Auburn, making him the 16th-best paid assistant in the nation.
Once an employee of Miles, LSU associate head coach and defensive coordinator Dave Aranda topped the list, with his $2.5 million salary.
Terms of Lindsey's new contract with KU, which have been requested by the Journal-World, have not yet been made public.
Podcast episode
The first couple weeks of the offseason have been busy ones for the KU football program and new head coach Les Miles. Beat reporter Benton Smith is joined by Matt Tait and Shane Jackson to discuss Miles' first two hires for his staff, offensive coordinator Chip Lindsey and defensive backs ...
Jeff Long, KU's first-year athletic director, has made clear his plans to invest in the long-struggling football program by spending more money, via donors, on assistant coaches' salaries than the athletic department has in the past.
Miles' first hire, new defensive backs coach Chevis Jackson, earned $88,800 as an assistant at Ball State.
The highest-paid KU assistant in 2018 was former offensive coordinator Doug Meacham, who made $521,000, and was fired midseason by then-head coach David Beaty.
Meacham's salary ranked 122nd on the list of FBS assistants, seven spots ahead of KU defensive coordinator Clint Bowen, who made $501,000.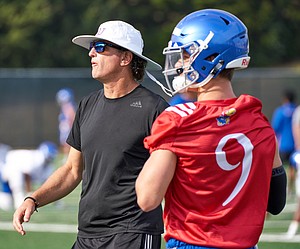 Below are the salaries of the other full-time assistants from Beaty's final staff:
• Tony Hull, running backs and associate head coach: $401,000
• Kenny Perry, special teams and recruiting coordinator: $400,999
• Garrett Riley, tight ends/fullbacks coach: $251,000
• A.J. Ricker, offensive line coach: $250,000
• Jesse Williams, defensive line coach: $201,300
• Justin "Juice" Johnson, receivers coach: $176,000
• Jeff Love, assistant coach (promoted from director of football technology upon Meacham's firing): $100,000
• Bill Miller, linebackers coach: $100,000
• Cassius Sendish, safeties coach: $100,000
KU has yet to announce Miles' plans regarding which, if any, members of Beaty's staff will be retained. However, Hull has been actively recruiting since Miles' arrival, and appears a likely candidate to remain on board in some capacity.