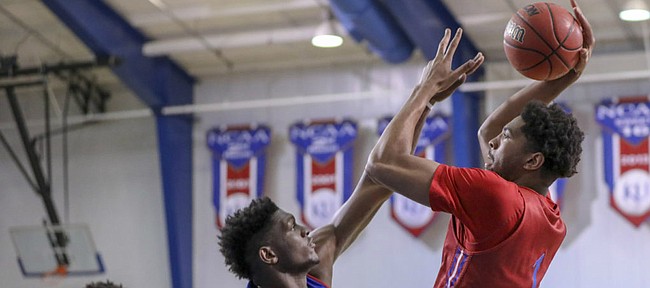 Hernia surgery kept Kansas coach Bill Self mostly away from his team during the Jayhawks' first week on campus. But before he went into the operating room last Thursday, Self saw enough to know where the 2018-19 team stood entering the start of the fall semester.
"You know, our conditioning's awful, which you would anticipate it being," Self began. "And I've said hundreds of times already, and I'll say it some more: We've got a lot of nice players — really nice players — but unless we have a couple of guys kind of emerge as knockdown shooters, nice players can be guarded pretty easily.
"We've got to find some guys that can consistently stretch it."
There is, of course, plenty of time for Self and his coaching staff to locate those long-distance shooters and help them put their stamp on the latest version of the Kansas basketball team. Self indicated last week that team workouts and individual skill sessions would pick up and "get more serious" during the coming week.
And Self's comments this weekend at the "Over The Edge" Boys & Girls Club of Lawrence fundraiser were not unlike things he has said about his teams of the past.
And even though practice and individual workouts have begun in a more serious manner than anything the team experienced this summer, Self's staff believes the current squad is right where one would expect it to be.
"They look good," said KU assistant Kurtis Townsend, who has seen and worked with the team a little more than Self thus far. "They're all getting comfortable. We've got veteran guys, we've got young guys, we've got talented guys. We're going to be deep. So right now, everybody's happy. But when you start dishing out playing time, you've just got to make sure the chemistry stays good."
While that depth figures to help KU tinker with a number of different styles and lineups this winter, Townsend said the benefits already had started showing up.
"I think it's great, because they go against each other and everybody's on the floor and they play against other really good players," he said. "So, I think, in practice, it's great. It's just when the game comes and they look at the stat sheet and they've played eight minutes instead of 20."
KU's first encounter with those moments is still two months away, with the first exhibition game slated for Oct. 25 and the regular-season opener set for Nov. 6 against Michigan State at the Champions Classic in Indianapolis.
Boot camp set
Self on Saturday revealed the start date for KU's annual boot camp training regimen, which pushes the team to the limit and emphasize mental exercises and chemistry drills as much as anything basketball-related.
This year's boot camp will begin Sept. 17 — 11 days before Late Night in the Phog on Sept. 28 — and will run through the following Tuesday, Sept. 25.
"Then, Wednesday and Thursday we're going to have a group called 'The Program,' those (military guys) who come in and deal with us, that'll be the end of boot camp," Self said. "So it'll go Monday (Sept. 17) through the next Thursday (Sept. 27), and then, Late Night's on Friday (Sept. 28)."
This will not be the first year that The Program has come to work with the Kansas basketball team. Back in the Fall of 2014, when Devonte' Graham was a freshman, the guys from The Program came through to work with Self's team.
That year, Graham, then a true freshman who had hardly spent any time around his new teammates, was named the team's most prolific leader and awarded The Program's signature gray T-Shirt designating him as such.
Leadership update
With Graham gone and veteran teammate Svi Mykhailiuk also playing in the NBA with him, the Jayhawks will be looking to lean on a new set of leaders this season.
Townsend said this weekend that early glimpses of which players might embrace the leadership role had started to emerge.
"You know what, Dok is surprisingly doing a good job," Townsend said of KU junior Udoka Azubuike. "And Lagerald (Vick) has become more vocal. But I think the Lawson boys (Memphis transfers, Dedric and K.J.) have both been through it, and so they're pretty talkative."
That was in Week 1. Townsend said he needed to see more where that came from to anoint any of those players, or any others, as proper Graham replacements.
"Not a real true leader yet, but it'll come," Townsend said.