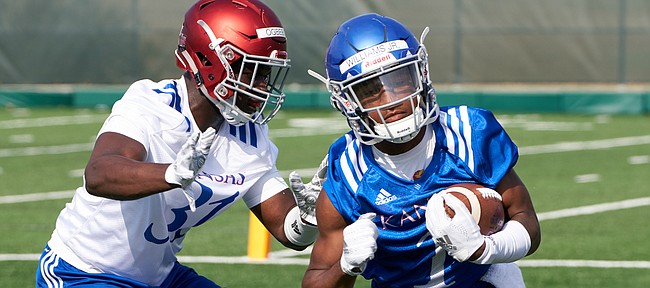 Every starter except defensive end Dorance Armstrong returns on defense. Center Mesa Ribordy, tight end Ben Johnson and part-time starters Chase Harrell at receiver, and Zach Hannon from various spots on the offensive line, are the only significant losses to the offense.
The returning players have had an extra year in the weight room and in the playbook.
Mix in 14 newcomers recruited from junior colleges and five graduate transfers, many in battles to supplant returning starters, and the Kansas football team has to be a lot better, doesn't it?
Add Louisiana high school recruits Pooka Williams at running back and Corione Harris at cornerback, both exciting talents who can add more than big plays. Talented rookies have a way of energizing veterans. Pooka and Harris just might bring enough juice to have that sort of impact.
The offseason gains feel real, so why then is it that when I walk to the ledge and look at what it would take to pick this team to win four games, I can't make the leap? What stops me?
Is it that Kansas lost in Big 12 play by an average of 32 points a game, so even a two-touchdown improvement leaves the Jayhawks too hopelessly behind to improve enough to win a conference game?
No, that's not it. In 2015, KU lost in Big 12 play by an average of 36 points and won a Big 12 game in 2016 when Texas turned it over six times and lost in overtime, 24-21. Nobody saw that coming.
This 2018 squad is a lot older than the one that delivered the first victory over Texas since 1938.
Maybe I can't make the leap because that unfathomable stretch of hapless football is too fresh.
In the final 3:44 of the third quarter of KU's home game vs. Texas Tech, plus the fourth quarter, plus the entire series of games against Iowa State and TCU, Kansas was outscored, 118-0.
It wasn't just that Kansas finished 1-11. Thanks to that nightmare that lasted 138 minutes and 44 seconds of game clock, the season felt worse than 1-11, if that's possible.
So going from 1-11 to 4-8 would feel like more than a three-game improvement.
Also, reaching four wins would require going 3-0 out of the chute, plus winning a Big 12 game. That's possible, but can a program that has won three games in three years show enough consistency to match that total in three weeks?
Two of Beaty's three victories were followed by 11-game losing streaks, including one that's active.
Given how much of the future was mortgaged for going all in on this season in recruiting, five victories certainly is a reasonable expectation, but does anyone believe that will happen?
Sure, the win-now approach to the offseason beefed up the roster and should result in more competitive games. Yet, every opponent will have more experience and success playing in close games than Kansas. That matters.
So, despite all the gains in experience and talent, instead of taking the 4-8 plunge, 3-9 seems like a safer prediction for a 2018 record. KU improved two games from 2015 to 2016 and should be able to make that sort of improvement this year.