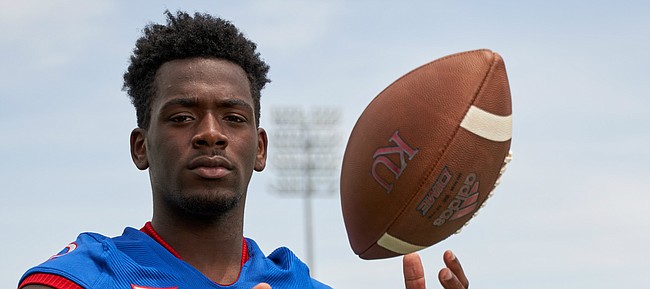 Ask Daylon Charlot to name one Kansas football receiver he thinks is ready to have a breakthrough season and he won't vacillate.
"I would pick myself," the junior from Patterson, La., will respond, "because I've been working hard."
Charlot recently answered that question with the conviction of a man who didn't abruptly get expelled to the secondary just 10 months ago.
The 6-foot, 209-pound wideout who transferred to KU from Alabama has not forgotten that was in fact his reality as a sophomore with the Jayhawks in 2017. It's just that his cameo at safety is far enough in Charlot's past that he currently possesses nothing but trust in his abilities at his natural position.
After failing to crack the two-deep at receiver and totaling just one catch for no yardage seven games into his debut season at Kansas, Charlot closed out the final five weeks somewhat similarly, by watching from the bench — except now he was a defensive back.
Podcast episode
With the 2018 Kansas football season 10 days away, we know who will start at quarterback in the season opener, but plenty of unknowns exist. KU football beat writer Benton Smith is joined by Tom Keegan, Matt Tait and Shane Jackson for a discussion on what awaits the Jayhawks — ...
The demotion of sorts for the receiver, who signed with national powerhouse Alabama as a four-star prospect following a standout prep career, actually brings a smile to Charlot's face when he reflects upon it.
"I enjoyed it," he said of the switch. "It was real fun, because I was going against (in practices) receivers that I became close with that I see as my brothers. I was ready to get in the game whenever for safety. It was a great experience."
Instead, Charlot, one of the most hyped players to join the program in recent years, played sparingly, mostly on special teams.
He was informed ahead of spring football earlier this year that his stint as a defensive back wouldn't last. Head coach David Beaty and his staff wanted him back at receiver.
"It was very refreshing," Charlot said, "because that's what I do and that's what I've been doing since I was younger."
Since then, he has invested extra time in learning the playbook "in and out," absorbing the concepts of coordinator Doug Meacham's offense and seeking out help from KU's quarterbacks.
With the guidance of position coach Justin "Juice" Johnson, Charlot now feels comfortable lining up at various spots within the offense.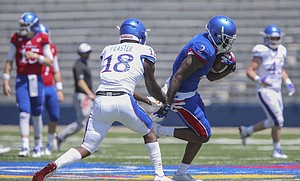 "It's everywhere," he said. "Inside, outside. Our coach teaches us to know the whole offense, so whenever anybody gets in you can just know what to do."
A man who is better acquainted with the once-ballyhooed passing target than most, Meacham, who coached receivers in 2017, before switching to QBs this year, discerned a change in Charlot since the conclusion of a forgettable sophomore year.
"I think he's learned to take care of his body and just study and practice habits and all that kind of stuff. He's matured," Meacham said.
That wisdom didn't come easily for Charlot. Looking back now on what stopped him from contributing to the offense a year ago, the receiver pointed to a preseason knee injury that stunted his progress. What's more, he failed to manage the situation properly from a number of angles.
"It was just bothering me mentally," he said. "Everything now is great. I'm back healthy and ready to go."
With a chance at redemption swiftly approaching, Charlot feels more convinced than ever that 2018 won't resemble his first season in a KU uniform.
The unperturbed junior thinks he will enter the upcoming opener against Nicholls State having done everything he could to secure a starting spot at receiver, which was the plan all along when he arrived in Lawrence as a transfer two years ago.
But is it feasible for Charlot to become a factor for the offense this fall, when that didn't even come close to happening in 2017?
"Yeah," Meacham said. "He's a big body. Strong hands. He'll help us."