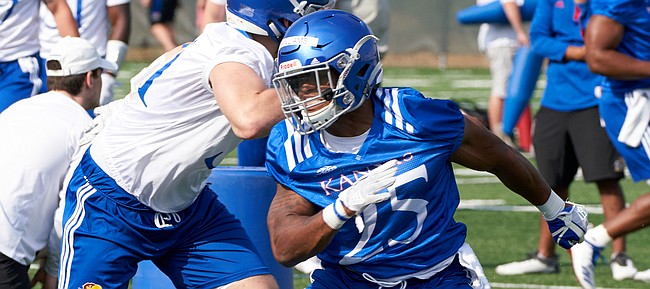 Junior Khalil Herbert just might be the Kansas football team's frontrunner to start at running back this fall. And most of the Jayhawks' supporters are counting down the days until they get to see true freshman Pooka Williams with the football in his hands.
Just the same, sophomore Dom Williams allocated too much of his offseason time to becoming a more effective rusher to get overlooked.
Actually, the second-year back from Texas is easier to spot these days after packing on muscle.
A native of McKinney, Texas, Dom Williams credited strength coach Zac Woodfin and his staff, as well as the team's dietitian, Ricky Ng, for transforming his frame, now listed at 5-foot-10 and 195 pounds, ahead of his sophomore season.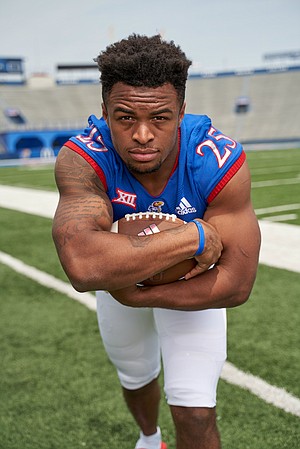 "I'm constantly eating," Williams said. "And being able to put on weight and just getting my legs bigger and stronger. That's one of the big things."
Listed at 190 as a freshman, his weight hasn't changed drastically, but his physical appearance has. His ability as a back has been upgraded, too, according to those who have watched KU's closed practices this preseason.
"He is running different," head coach David Beaty reported. "We hope he will continue to do that throughout the season. He really, really did grow up fast. And I think that he saw that he can be a premier back in this conference if he worked at it."
In 2017 as a true freshman, Williams appeared in nine games, with one start, while dealing with some nagging injuries. The former four-star standout at Independence High (Texas) finished his debut college season with 51 carries for 176 yards, with three touchdowns. He also caught seven passes for 49 yards.
At practices this month, Williams has felt positive about his ability to run with a more physical style than he did as a freshman.
His head coach said the Jayhawks "gotta find a way" to keep him involved offensively this season.
Podcast episode
With the 2018 Kansas football season 10 days away, we know who will start at quarterback in the season opener, but plenty of unknowns exist. KU football beat writer Benton Smith is joined by Tom Keegan, Matt Tait and Shane Jackson for a discussion on what awaits the Jayhawks — ...
"He looks good," Beaty said. "I told him the other day, 'You don't look like a baby anymore. You look great, man. I'm proud of you.' I look forward to him having a really good season."
Both Herbert, listed at 5-9 and 210 pounds, and Williams look jacked ahead of KU's Sept. 1 opener thanks to the strength and conditioning regimen they've been on since the 2017 season's conclusion. Williams said both he and Herbert benefited from having the other around.
"I feel like we both push each other because we're both trying to be great," Williams said. "And then we're also close, just like brothers. We both want to see each other succeed, so I feel like that's what helps us out the most."
KU likely will lean on all three of its top running backs once the season begins. When Williams gets his touches, Beaty expects the second-year back to deliver.
"He put the work in. I am proud of him," KU's fourth-year coach said. "He's pushing for that job. Good player."