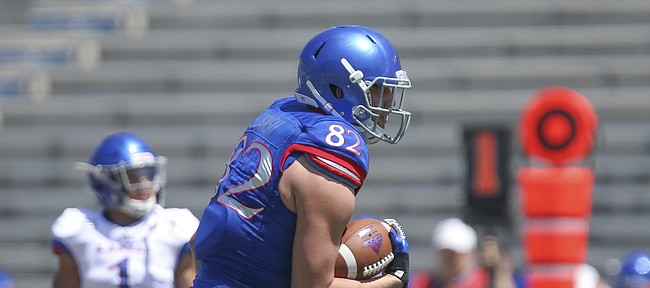 It has been a bizarre journey for James Sosinski.
A junior tight end for the Kansas football team, Sosinski hasn't played a meaningful snap since his senior year of high school in 2014. Since then, Sosinski has switched positions, changed schools and even competed in a different sport to get to this point.
As a result, Sosinski wants to prove something when he steps on the field in David Booth Kansas Memorial Stadium this fall.
"It's going to be a lot of fun," Sosinski said. "It's going to show why I do all this hard work and why I chose this sport. I just feel like it's my time."
In high school, Sosinski was an all-state quarterback for Hamilton in Chandler, Ariz. He completed 175 of 274 passes for 2,483 yards and 24 touchdowns during his senior season, in the fall of 2014.
Sosinski then went to UMass, where he redshirted his freshman season. However, Sosinski elected to return home after summer workouts and transferred to South Mountain Community College.
A broken foot prevented him from playing football that fall, but he joined the basketball team by the end of December. The next semester, Sosinski averaged 19.1 points and 12.6 rebounds for South Mountain C.C.
Sosinski then transferred to Kansas, though he did not see any game action last fall with the football team while learning a new position. Sosinski played receiver in high school, but had no prior experience at tight end.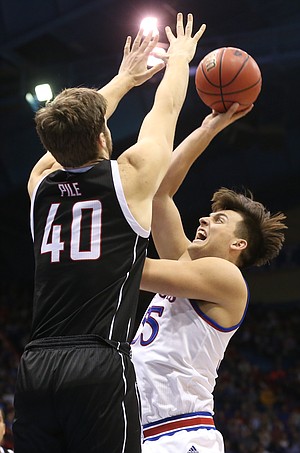 "The biggest thing is learning a different side of the game," Sosinski said. "Instead of being a thinker back there, you have to be a bully. You also have to learn different steps when you are blocking. I feel like it hasn't been the toughest adjustment, but there has been a little bit of a learning curve."
Sosinski appeared comfortable at the new position last spring, even though he missed a few practices due to his reserve role on the KU men's basketball team during its run to the Final Four. The 6-foot-7, 260-pound tight end appeared in six basketball games, playing a total of eight minutes.
Sosinski is now focused solely on football, and making an impact this season. He believes his basketball experience has helped him improve as a football player.
"Just seeing the focus and mentality that goes into it every day," Sosinski said. "Seeing pros like Devonte' Graham and Svi (Mykhailiuk) take an everyday work ethic, and just the little things that they did that made them a lot of better. Learning from pros like that is great."
Sosinski's football teammates have taken notice of his improved mentality.
"That's the cool thing about him. He's not like, 'well, I played for the basketball team,'" senior linebacker Joe Dineen said. "He's really focused in this year. He makes a ton of good catches. I'm excited for you guys to actually get a chance to see him play football. He can play now."
As a result, Sosinski's teammates may be just as excited to see him in action during the season opener on Sept. 1.
"James is a special athlete, we are definitely going to utilize him this year," junior quarterback Carter Stanley said. "He's such a great kid. He made some great plays in the spring as well as early in fall camp. I'm excited to see him get going."