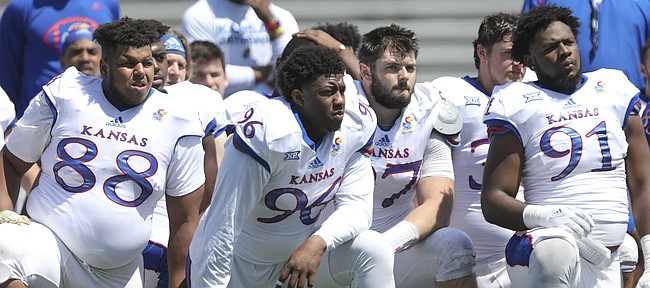 In an alternative, quintessential version of this spring, the Kansas football team would have had enough healthy, functional offensive linemen to scrimmage routinely without fear of losing more blockers up front to injuries.
As most observers know by now, though, few scenarios involving the ever-struggling Big 12 program play out ideally.
After the Jayhawks completed their 15-practice stretch without a spring game, due to the O-line situation, rising senior receiver Steven Sims Jr. described how dissimilar this past March and April were to the previous couple he experienced at KU.
Photo Gallery
Kansas football open practice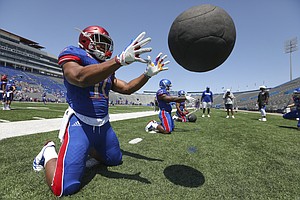 View a gallery of images from an open practice on Saturday at Memorial Stadium.
"Past years, we were scrimmaging a whole lot. A whole lot. Maybe every weekend it was just a straight scrimmage day — line the ball up, scrimmage," Sims recalled. "It's been very different. But, again, this spring we had more guys hurt, so we had to keep everybody healthy, so I understand."
The banged-up status, some worse than others, of more than half of the 15 offensive linemen currently on campus meant 11-on-11, game-like repetitions weren't replicated nearly as often.
"We didn't go live a whole lot," redshirt senior linebacker Joe Dineen said. "We never had one day that was a complete scrimmage. We had days where it was half practice, then we'll go live team (such as the open practice that replaced the spring game Saturday at David Booth Kansas Memorial Stadium). We didn't scrimmage a ton just off a numbers standpoint. It probably would've been stupid to go full."
The general consensus among players on the subject the past few weeks landed much closer to understanding than disgruntled. Still, the competitive nature of many led to them wishing a typical spring format had been possible.
"It's not hard to keep grinding through it, but sometimes, we want to go live," Sims admitted. "The defense, you know, they talk a lot of crap. So, it'll be a play that's an iffy play — like 'Oh, he could've made the play.' So, if it's tackle (like in a scrimmage), now we really know if you made the play. It's just days like that, things like that. But I don't look at nothing negative. We just have to take it as it is, take everything and just keep working, take it positive and work through it all. That's it."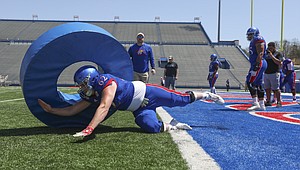 While the past several weeks had to become more monotonous than most spring schedules, with the work limited mostly to drills and the routine than scrimmages, redshirt senior defensive tackle Daniel Wise said the circumstances didn't negatively shape the way players approached an important stretch of the offseason.
"There's a lot of rotation going in. Just a lot of guys fighting for that spot," Wise began. "It was what's best for the team. You can't just wear out the guys who are in — that wouldn't do no good for nobody. We played it smart. I guess it was more fundamentals. You can't really go in and hurt the (injured O-linemen) some more."
Dineen, who, like Wise, just finished his fourth and final spring with KU football, deemed the unconventional 15-practice schedule beneficial. The senior linebacker thought the defense exited it refined, with players having better grasps of their responsibilities and objectives.
"The thing that's tough about spring is, you're practicing like it's game week without a game," Dineen said. "But I feel like we took a step forward this year. We kind of attacked it. We weren't like, 'Ah, man. It's another practice.' We really wanted to make every opportunity count and get better with every opportunity. And I think the spring, maybe more than other springs in the past, we did that."
Fourth-year KU head coach David Beaty asserted he and his staff weren't impacted from an evaluation standpoint by canceling the traditional spring game.
"We lost absolutely nothing. I mean, we saw everything we needed to see throughout the spring," Beaty said. "We had several situations that were going to cause lots of distractions for them throughout the spring. That was good for us."