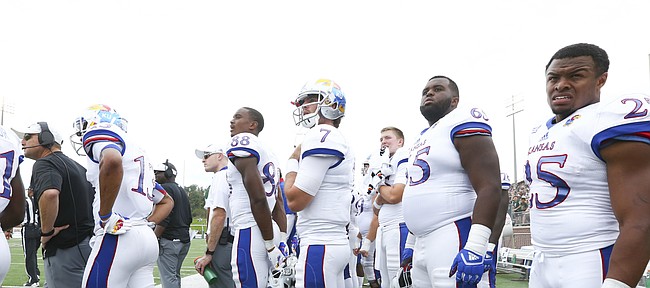 Due to players leaving the program for various reasons in the years before he took the job, the Kansas football roster David Beaty inherited close to three years ago was lacking in the scholarship category.
Beaty revealed, though, on his weekly Hawk Talk radio show that number has drastically improved since, with "about 84" — one shy of the NCAA maximum 85 — Jayhawks on scholarship at this juncture.
"That doesn't mean all of those guys came on scholarship," Beaty clarified while answering a submitted question for the show, "and there's nothing wrong with that, all right. It may mean that we had a scholarship available and (walk-ons who were given scholarships) had been here for two years. If you've been here for two years you don't count as one of those 25 initials, so that's how you're able to reward walk-ons."
As the third-year coach referenced, programs can sign at most 25 scholarship players per recruiting class. Current NCAA rules mandate a walk-on has to be in the program two years before earning a scholarship — though Beaty said those terms of service and reward could shrink to one year in the future.
This past August, KU surprised former walk-ons Mazin Aql, Beau Lawrence, Cole Moos and Reese Randall with scholarship status via an announcement on the Kauffman Stadium video board during a Royals game.
Changes in KU secondary
The struggling Kansas defense implemented changes to the secondary in this past week's loss to Texas Tech.
Clint Bowen, KU's defensive coordinator and safeties coach, replaced nickelback Derrick Neal — who is still listed on the roster, but did not dress, and Beaty said "we'll see" regarding Neal's future with the program — in the starting lineup.
In Neal's place, sophomore Bryce Torneden moved from safety to nickelback.
Podcast episode
On this episode of the KU Sports Hour, hosted by KU football beat writer Benton Smith, the KUsports.com staff discusses what may have already become another lost season for KU football. Topics include: KU's lack of progress in 2017 (open-14:40), the quarterback controversy (14:40-28:55), the program's recruiting failures (28:55-38:15), the ...
"He's really suited well to that position," Beaty said of Torneden on Hawk Talk. "We wanted to wait until the bye week to get that done to be able to give him time to really rep that and work it. He was familiar with it but we wanted to give him two weeks work in it before we did it."
Sliding Torneden over from safety required further adjustments. Sophomore Mike Lee moved to the safety spot on the short side of the field, while Tyrone Miller Jr. went to Lee's old spot as the "field" safety.
Beaty explained it is optimal to have more speed at the "field" spot and a good hitter and "manager of space" closer to the sideline. He added this change should put Lee in better position to defend the run and make "a lot" of tackles.
Lee enters Saturday's game at Iowa State (11 a.m. kickoff, FOX Sports Net) second on the team with 40 total tackles, trailing only junior linebacker Joe Dineen's 61.
KU (1-4 overall, 0-2 Big 12) also played Antonio Cole and Emmanuel Moore some at the safety spots against Tech.
"We're trying to develop some more guys and get some plays off of guys," Beaty said. "When you're playing in the Big 12 and a guy's got 85 snaps on his body that's a lot. If you can take 10 snaps off of him you'd be surprised how much of a difference that makes. We've got to get some of those other guys in there contributing. We've got to just get them in there. They're going to learn some things along the way, but as I turn on the tape and I see other people putting their reserves in, guess what, they're learning. They're learning on the run, too. But the only way they're going to learn is to get in there. … They can do it in practice all day, but, man, there's no way to learn like getting into the game."
Beaty said KU's safeties looked solid at times but also hurt the defense on occasions.
"The bad thing about playing in the secondary, sometimes you make a mistake it's a touchdown," he said.
Dineen leading Big 12 tackler
Nearing the midway point of the season, Dineen continues to lead the Big 12 in major defensive categories.
No other defender in the conference has matched Dineen in total tackles (61), solo tackles (39), tackles per game (12.2) or tackles for loss (10).
Dineen's nine total tackles against the Red Raiders marked the first time this season the redshirt junior didn't reach double figures in stops.
11 a.m. starts
This week's KU game at ISU (3-2, 1-1) marks the fourth straight 11 a.m. kickoff for the Jayhawks.
A fan asked Beaty on Hawk Talk at what time of day the Jayhawks prefer to play.
"We all get into this sport to play in the marquee game. So the 2:30 (p.m.), 3 o' clock time slot is a marquee time slot and the late 7 o' clock start in the Big 12 is the marquee spot. So you want to be in those spots," Beaty answered. "We like those because that means we're playing well enough to earn those spots.
"There's some good to playing early," Beaty added. "Early means you get up and you don't have to sit around that hotel all day, because that is tough. No doubt."
A kickoff time for KU's Oct. 21 trip to TCU won't be announced by the Big 12 until this coming Monday.